Posted on
Sun, Dec 11, 2011 : 5:57 a.m.
Michigan must continue investing in electric vehicles, batteries
By Guest Column
(Editor's note: The author of this story is Charles Griffith, clean vehicles & fuels director of the Ecology Center in Ann Arbor.)
AnnArbor.com Business News Director Nathan Bomey's Dec. 2 story on Michigan's advanced battery industry ("A123 Systems layoffs highlight challenges for Michigan's budding battery industry") was very informative and well-researched.
But it would have been better if it had included some rebuttal of the naysayers at the Mackinac Center for Public Policy who keep repeating their pro-fossil-fuel, keep-the-status-quo message.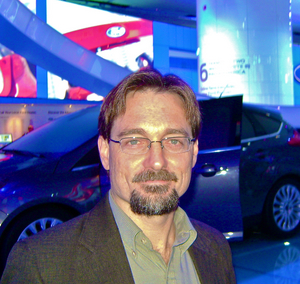 Photo courtesy of the Ecology Center
The bottom line is that the
layoffs at A123
are temporary, and are due to a production delay by one of A123's two major customers.
Far more important in the larger picture is that made-in-Michigan electric vehicles are now serious competitors in the advanced vehicle marketplace, and the prospect for employment growth in this sector is one of the brightest spots in our state's economy.
A123 CEO David Vieau is certainly right that there's likely to be a shake-out in the battery industry, with some confusion and uncertainty about which firms will emerge as category leaders. But one thing we can say with absolute certainty is that there wouldn't be a U.S.-based advanced battery industry if the federal government and the state of Michigan hadn't made the investment we have.
The electric vehicle industry has already created thousands of advanced auto sector jobs in Michigan and more than $6 billion in investment, according to a 2011 study. General Motors has invested more than $700 million in Michigan at eight manufacturing plants for the production of the Chevrolet Volt, Motor Trend's Car of the Year for 2011. Ford has invested $1 billon to modernize its Michigan Assembly Plant to build the electric Ford Focus.
Maybe the naysayers would be happy just to import all the advanced batteries we need from China, Japan and Korea. But for the rest of us, now is the time to keep our focus on competing successfully with the other countries around the world that are investing in the next generation of automobile technologies.
Michigan is at a crossroads, and nowhere is this more apparent than in our auto sector, where electric vehicles and advanced batteries are emerging as potential game-changers for the entire industry. Putting our foot on the brake now will only allow others to pass Michigan and leave us behind. Governments around the world are investing in clean energy and Michigan is in a global race to develop technology and manufacturing leadership in this dynamic industry.
Electric cars are one of the key elements to a stronger automobile industry and a key to innovation and leadership in technology and manufacturing in the 21st century. Michigan has unique advantages, and can clearly be a leader, as long as we maintain the momentum our entrepreneurs and highly skilled workforce have built up over the last five years.
Michigan needs to get back to creating Michigan jobs, and the electric vehicle sector gives us the opportunity to put people back to work. Building on our successes will help us expand Michigan's advanced battery and electric vehicle industry, creating thousands of more jobs, reducing our dependence on foreign oil, and saving consumers money at the pump.