Posted on
Thu, Jul 19, 2012 : 5:57 a.m.
3 Ann Arbor companies benefit from Michigan's early-stage business investment fund
By Ben Freed
A fund designated to help early-stage Michigan companies grow invested in three Ann Arbor-based startups this month, providing an infusion of cash as two of the companies, technology-based startups FlockTag and Larky are preparing to launch products.
The Michigan Pre-Seed Capital Fund put a combined $600,000 into the two technology companies and FreeStride Therapeutics, a veterinary pharmaceutical company that is based in Ann Arbor but operates around the world.
Money for the pre-seed fund comes from the Michigan 21st Century Jobs Fund, established in 2005 with the mandate to "continue to reshape and diversify Michigan's economy by sparking new investments to rapidly create companies and jobs," according to the Michigan Economic Development Corporation's website.
Pre-seed investments are made in companies that have at least a "beta" or "test" product or that are nearing commercialization but have not yet raised $1 million in either private equity or sales revenue. The fund is administered by Ann Arbor SPARK.
Skip Simms, Ann Arbor SPARK's vice president for entrepreneurial business and pre-seed fund manager, said most of the companies that receive pre-seed funding are pre-revenue, but they will reach that stage relatively soon.
FreeStride Theraputics is developing a drug that will help with bone diseases in companion animals, a group that includes horses, dogs, and cats. The drug treats an inflammation similar to shin splints and will be marketed first for use in thoroughbred horses.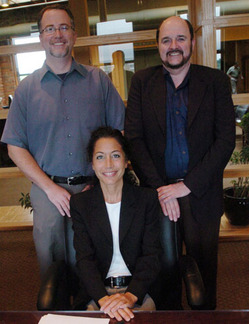 The company is currently "virtual," said co-founder
Michael Long
. The ingredient for the drug comes from Japan because the intellectual property rights for it are held there, the chemistry is done in North Carolina, and the formulation is being done at the
Michigan Life Sciences and Innovation Center
(MLSIC).
The MLSIC is run a coalition that includes the MEDC and Ann Arbor SPARK. The facility, located in Plymouth, houses office and lab space used by a variety of Southeast Michigan startup companies.
Long said that the next step is to test the drug so that it can be approved by the Food and Drug Administration. Those tests are being preformed at a veterinary lab at Ohio State University. Long said he hopes that the FDA will approve the drug in about three years. The company had hoped to reach the veterinary market as soon as this year, according to estimates from 2009.
It is unclear how many Michigan jobs will be created from the investment in FreeStride. Long said that the company could choose to remain virtual once product sales begin sometime down the road, but that an office with a sales staff would be necessary for the company.
He added that the practicality or profitability of bringing manufacturing or packaging in house could not be determined until the company was ready to produce the product.
While the money for the fund comes from the 21st Century Jobs fund, the funds manager, Simms, said that there is not a job creation requirement in the application process.
"There is a job creation assumption, that if these companies are successful, any company that grows needs more employees," he said.
Simms said that companies have to work with one of the the 15 SmartZones located across Michigan in order to qualify for the funding. The SmartZones help the start-ups with their business strategy and plan, and then (to the extent that they can) with fundraising. Once a certain amount of money has been raised, the pre-seed fund can match it.
"One of the aspects of the program is that you have to have the match before you can apply to us," Simms said.
"We take ourselves out of the negotiations, whatever terms the private investors negotiated, we receive the same."
The fund invested $250,000 each in FlockTag and Larky. Both use new technologies to focus on making it easier for consumers to use discounts and freebies.
FlockTag is an all-in-one rewards card that combines all of the punch cards that might be spilling out of your wallet into one electronic card that can be scanned at participating business. By tracking purchase data, FlockTag can then offer you unique deals and offers based on where you shop and what you shop for.
The company, started by two Michigan MBA graduates, has 30 business in Ann Arbor using their system, as well as another 30 spread between East Lansing, Columbus, Ohio, and Champaign, Ill. There are currently about 40,000 people using FlockTags across the Midwest, and the owners are hoping that with this funding, in addition to capital already raised, that number will grow quickly.
"We are adding more sales reps to go out and get more business," co-founder Adrian Fortino said.
"We're also hiring marking and PR people to help us really launch in the fall. This is college kid focused and we're taking a strategy of focusing on Big Ten campuses."
Larky, by contrast, is focused on making sure that you use discounts that you've already paid for by joining organizations such as AAA, an Alumni Club, or even the AARP. It's an app that alerts you when you have discounts available any given location.
"I'm a member of the Hands On Museum, the Michigan Theater, and AAA and I have a Visa in my pocket. When you join all of these things you get a flyer with all your discounts, but no one ever remembers them," said Larky co-founder Gregg Hammerman.
"So the point is, if you walk into a restaurant it will pop up on your phone 'don't forget, you have a discount here!'"
The app is expected to launch within the next two weeks, and it will be free for consumers. Larky is currently a very small operation, but is looking to hire business developers, software developers, and a small customer service staff.
"The pre-seed money has helped us push forward," Hammerman said.
"We're from Michigan, we're committed to being here, it's where our funding is from. We'd like to hire folks here and build the business here."
Companies based in the Ann Arbor SPARK SmartZone have accounted for 34 of the approximately 75 recipients of money from the pre-seed fund.
Ben Freed covers business for AnnArbor.com. Reach him at 734-623-2528 or email him at benfreed@annarbor.com. Follow him on twitter @BFreedinA2