Posted on
Wed, Mar 6, 2013 : 12:49 p.m.
National survey ranks Michigan 4th in corporate expansion
By Ben Freed
Site Selection magazine ranked Michigan 4th in their annual Governor's cup that compares the growth of new and expanded corporate facilities in states across the country, according to a story from MLive's Melissa Anders.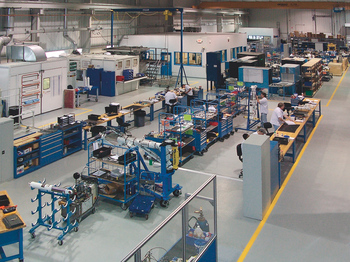 Photo courtesy of Liebherr-Aerospace
Texas won the "competition" in a landslide with 761 projects, followed by four Midwestern states. Ohio had 491 projects, followed by Pennsylvania with 430, Michigan with 337, and Illinois with 322.
Michigan and Texas are the two states in the top 5 that have passed right-to-work laws, and Site Selection editor-in-chief Mark Arend told MLive the legislation will "certainly keep Michigan on lists of states that are under consideration [for companies]."
Gov. Rick Snyder and Michigan Economic Development Corp. CEO Mike Finney both said the ranking highlights Michigan's economic turnaround. The last time Michigan was ranked in the list's top 10 was 2010, when it ranked 7th.