Posted on
Fri, Feb 15, 2013 : 12:07 p.m.
Michigan sees nearly $150 million increase in venture capital activity in 2012
By Ben Freed
While venture capital funding decreased nationwide last year, funding for Michigan startups increased from $84.7 million in 2011 to $232.31 million in 2012. The investment level was the highest Michigan has seen since the dot-com bubble burst in 2000, according to a report from MiBiz.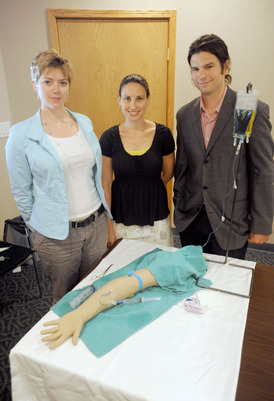 Angela J. Cesere | AnnArbor.com
The money was split between 47 investments made in Michigan companies, with more than half of the money concentrated in the three largest deals, including the largest deal in the Ann Arbor, a
$34 million investment
in medical device company
CytoPherx
.
Experts in the MiBiz article said that Michigan's venture capital community is growing thanks to increased entrepreneurial activity, but it still is in its early stages and small compared to the money available on the coasts.
One coastal fund, Massachusetts based Flagship Ventures, will soon be opening an office in Ann Arbor, according to a story from Concentrate Media. University of Michigan Ross School of Business graduate Dr. Michael Johnson will run the new office.
The fund specializes in early stage investments and has invested in Ann Arbor companies Accuri Cytometers and Tangent Medical Technologies. Flagship expects to open its doors at a soon-to-be leased office in downtown Ann Arbor before the end of February.
Ann Arbor companies that raised significant rounds of funding in the 2012 year include Cytopherx, LLamasoft, Tangent Medical Technologies, and NanoBio.