Posted on
Fri, Nov 18, 2011 : 9:30 a.m.
'Sustained recovery': U-M economists project Michigan to add 68,700 jobs over next 2 years
By Nathan Bomey
(This story has been updated several times.)
Michigan will add 68,700 jobs in 2012 and 2013, fueling a "sustained recovery" at a "subdued pace," according to projections released this morning by University of Michigan economists.
U-M economists projected that the state would add nearly 31,500 jobs in 2012 and 37,200 in 2013 after adding about 64,200 jobs in 2011.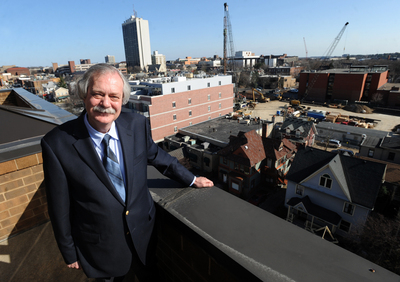 Melanie Maxwell | AnnArbor.com
That would drive the state's average unemployment rate from 10.7 percent in 2011 to 10.4 percent in 2012 and 10 percent in 2013, according to the annual forecast conducted by
George Fulton
,
Don Grimes
and
Joan Crary
.
The rate, which averaged 13.3 percent in 2009 and 12.5 percent in 2010, is expected to fall to 9.1 percent by the fourth quarter of 2013.
The economists projected that the rate's decline would be slowed as discouraged unemployed workers decide to look for jobs again toward the second half of 2012.
"Now that Michigan's darkest days are in the books, much of today's news is positive," Fulton said. "The Michigan economy is gaining some forward momentum for the first time in a long while. We have a ways to go, to be sure, before we reach full economic health, but we've made a good start."
Michigan's unemployment rate fell from 11.1 percent in September to 10.6 percent in October, according to statistics released Wednesday by the state government.
The manufacturing sector is expected to account for about 27.3 percent of the new jobs over the next two years. The sector, which added 19,000 jobs in 2010 and 25,000 in 2011, is expected to add 21,000 over the next two years.
High-wage industries, defined as those where the average wage is more than $57,000, is the fastest-growing segment of Michigan's workforce. The number of high-wage jobs in Michigan rose 4.2 percent from the third quarter of 2009 to the third quarter of 2011, adding 38,867 jobs. The number of low-wage jobs rose 3.8 percent during the same period, increasing by 36,267 jobs.
The state's professional and business services sector is expected to add about 20,000 jobs over the next two years after adding 26,000 in 2010 and 20,000 in 2011, the economists projected. Powering part of the sector's rise is a "red-hot temporary help industry," the economists said.
Much of that growth was due to "the resurgent auto industry" hiring temporary workers, according to the economists' forecast.
"It turns out to be inaccurate to attribute Michigan's current job recovery to increases in local French fry production," Fulton said. "Indeed, for what it's worth, the more general industry category that contains fast-food restaurants has declined over the period."
The health services sector — which includes private hospitals but not the University of Michigan Health System, which is categorized as "state government" — is expected to add 9,000 jobs next year and another 9,000 in 2013.
Michigan residents' personal income, which rose by 3.3 percent in 2010 and 5.8 percent in 2011 in the aftermath of the auto industry's collapse, will continue to rise, increasing 3.0 percent in 2012 and 2.7 percent in 2013.
The government sector will experience job cuts over the next two years, the economists projected. The sector is expected to lose 8,000 jobs in 2012 and 2,500 in 2013 after cutting 10,800 jobs in 2011.
The economists cited the U.S. Postal Service's financial problems, reductions in the state's service sector and struggling municipalities and school districts as factors in the sector's decline.
The gradual recovery comes after Michigan lost 857,000 jobs from the spring of 2000 to the summer of 2009, according to the economists' report.
If the state continues to add jobs at the pace the economists project, Michigan would have 68,000 fewer jobs at the end of 2013 than it had at the end of 2008 due to the "unprecedented crash of 2009."
"Obviously we have much farther to go to make up the losses prior to 2009," the economists said in their report. "That's a great deal of ground to make up."
A key factor influencing the state's recovery is the gradual uptick in U.S. light vehicle sales. The auto industry is expected to sell 13.5 million cars to U.S. buyers in 2012 and 14.3 million in 2013. That's up from 10.4 million in 2009, 11.6 million in 2010 and 12.7 million in 2011.
In Washtenaw County, the unemployment rate was 6.6 percent in September, according to the state. That was down from 7.2 percent in August and reflected the fourth lowest rate among Michigan's 83 counties.
U-M projected in March that Washtenaw County would add 8,000 jobs in 2011, 2012 and 2013.
On Thursday, U-M projected that the U.S. economy's unemployment rate would fall from an average of 9 percent in 2011 to 8.9 percent in 2012 and 8.6 percent in 2013.
Fulton said today that the pace of the national economic recovery poses a "risk" to Michigan's recovery, too. If the U.S. economic sputters, Michigan would add fewer jobs than expected.
Contact AnnArbor.com's Nathan Bomey at (734) 623-2587 or nathanbomey@annarbor.com. You can also follow him on Twitter or subscribe to AnnArbor.com's newsletters.