Posted on
Fri, Nov 19, 2010 : 9:30 a.m.
Michigan's job market is stabilizing, University of Michigan economists say
By Nathan Bomey
Michigan is no longer hemorrhaging jobs.
In fact, Michigan's economy is stabilizing, and the state is expected to add jobs in 2011 for the first time in more than a decade, University of Michigan economists projected in a forecast released this morning.
U-M economists estimated the state will add 24,500 jobs in 2011 and 63,000 in 2012. That follows losses of 17,000 in 2010, 230,000 in 2009 and some 850,000 since 2000.
The forecasters project that the state's unemployment rate will average 12.4 percent in 2011 and 11.5 percent in 2012. The average rate in 2010 is expected to be recorded as 13.4 percent. In 2009, Michigan's largest single year of job losses in 70 years, the unemployment rate was 14.4 percent.
The unemployment rate is expected to decline each of the next eight quarters, dropping from 12.68 percent in the fourth quarter of 2010 to 11.17 in the fourth quarter of 2012.
"The heartbeat of the Michigan economy seems to be getting a little stronger," U-M economist George Fulton said. "We haven't yet turned the corner to sustained growth, but the prognosis is encouraging."
Fulton cautioned that he's not projecting a vibrant recovery.
"It does not mean that the economy is back to normal," he said. "For many residents, the economic struggles will continue."

Fueling the gradual turnaround, in part, is a return to viability for the major automakers, symbolized by General Motors' initial public offering Thursday.
The transportation equipment manufacturing sector is expected to add 3,000 jobs in 2010, 1,000 jobs in 2011 and 4,000 in 2012, U-M projects. Michigan's manufacturing sector lost 100,000 jobs in 2009 alone, a figure that illustrates the market's rapid stabilization.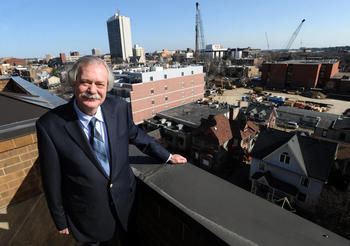 Melanie Maxwell | AnnArbor.com
"We simply did not anticipate as rapid a recovery from the bankruptcy proceedings as what transpired," the economists reported. "It appears the state's automotive industry is regaining some stability after the federal rescues and bankruptcy restructurings of
General Motors
and
Chrysler
. Indeed, GM and
Ford
are in the black this year."
That stability is driven in part by a recovery in the auto sales market. Total U.S. vehicle sales are projected at 11.5 million in 2010, 12.7 million in 2011 and 14.8 million in 2012.
The auto industry and general manufacturing remain critical to a healthy job market in Michigan, but are no longer big enough to lead a wholesale turnaround. In 2010, manufacturing of all types accounts for about 463,000 jobs in a total labor force of 4.84 million, U-M estimated.
Most of Michigan's job growth over the next two years will occur in the professional and business services sector, private education and health care. The education and health services industry will gain 22,800 jobs from 2010 to 2012, and the professional and business services sector will add 14,300, the economists projected.
The government -- a wide-ranging sector that includes jobs at public universities, for example -- is expected to lose 10,000 jobs over the next two years, according to projections.
For a "more robust economy," Michigan must pursue an "entrepreneurial economy," Fulton said.

"It comes down to anticipating what will make Michigan more attractive to industries that will expect to thrive in the 21st century," he said. "Intuition and conventional wisdom suggest that a cluster of active and successful research and development activities will help draw in the industries of the future.

"An increased agglomeration of such activities in the region will promote the cultivation and sharing of scientific ideas, putting Michigan on the road to becoming the kind of state that it aspires to be."
Those research-intensive industries would boost Michigan's per-capita income, which has fallen over the last decade as the employment market plummeted.

Michigan's per-capita income is now 81.4 percent of the U.S. rate, compared to 95.3 percent in 1990 and 96.2 percent in 2000.
The average Michigan manufacturing worker earns 34.4 percent more than the average Michigan worker.
Personal income for Michigan workers will increase 1.8 percent in 2010, 2 percent in 2011 and 3.8 percent in 2012, according to projections. Income fell 3.1 percent in 2009.
Michiganders' real disposable income growth -- a calculation that factors inflation and tax changes -- will rise 1.1 percent in 2010, 0.6 percent in 2011 and 1.9 percent in 2012.

The U-M forecast reflects a much more positive outlook than the economists projected in late 2009. Last year, they predicted that Michigan's unemployment rate would top 15 percent in 2010 and 2011.
Fulton attributed the improved outlook mostly to a quick turnaround for the auto industry.
Elements that could affect the forecast's accuracy include the stability of the national economy, the continuation of the auto industry's recovery and additional troubles in the housing market, Fulton said.
Fulton also suggested that some of the new jobs in Michigan won't be great positions. He suggested that, for example, employers might start to rely more on so-called temporary employees.

"I'm wondering - and this is just wondering - if, in fact, our environment is shifting and that more of those temporaries won't be temporary temporaries, they'll be permanent temporaries," Fulton said.

Contact AnnArbor.com's Nathan Bomey at (734) 623-2587 or nathanbomey@annarbor.com. You can also follow him on Twitter or subscribe to AnnArbor.com's newsletters.