Posted on
Mon, Jul 1, 2013 : 5:57 a.m.
MINI of Ann Arbor opens on Jackson Road following delays
By Ben Freed
Daniel Brenner | AnnArbor.com
Nearly two and a half years after the project was first announced, the
MINI of Ann Arbor
dealership opened June 24 on Jackson Road in Scio Township.
General manager Sarah Woolson said as of Friday morning the dealership already had completed three sales and was experiencing a high level of interest from car-hunters in the area.
"We have everyone from 18-year-olds looking at their first new car all the way up to people well into retirement looking for something fun to drive," Woolson said. "It really is all over the place."
Owner Mack Johnson previously operated a Saturn dealership, and bought the former Jim Bradley Pontiac lot at 3500 Jackson Road in 2010. Having grown up in Ann Arbor and attended Pioneer High School, Johnson said he knows what types of cars will resonate with the local market.
"We had the Saturn dealership and I felt like when GM said that they would take Saturn off the shelf that consumers who were the 'Saturn type' of customers and 'Ann Arborite' types of people would like the MINI brand," he said.
MINI of Ann Arbor is the third MINI dealership in Michigan, joining one in Grand Rapids and another in Oakland County. The brand is part of the BMW family, and Johnson said the cars are well-suited to customers who like the look and feel of smaller imported cars.
"When GM put Saturn out there they were trying to knock at the door of the imports and that's exactly what they did," he said.
"MINI is the same thing. You're an American buyer but you like to have that import type of atmosphere and feel, that's what it offers."
As of Friday, there were about 60 cars on the lot, and Woolson said she expects that number to grow to about 100 new cars and 30 to 40 used models in the near future. The used cars sold by the dealership will not necessarily be MINIs.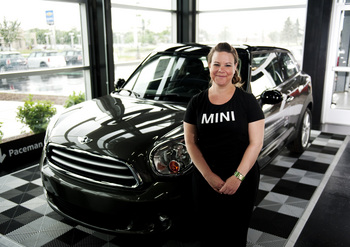 Daniel Brenner | AnnArbor.com
The dealership has 15 employees, including 3 sales associates MINI refers to as "motoring advisors." Woolson said prices for the cars approximately begin at $20,500 but a number of deals and financing options are available for customers.
In its most recently published sales figures, MINI reported selling 5,786 cars in April, a 1 percent increase over the previous year, and 19,841 cars during the first four months of 2013.
Johnson declined to disclose the cost of the project but previously told AnnArbor.com it has been a "big investment."
After announcing his intentions to open the new dealership in February 2011 during the fall of 2010, a number of setbacks led to substantial delays in the construction of the 12,802-square-foot showroom.
"The biggest issue was me trying to be the owner, the dealer, and the general contractor all at the same time," Johnson said.
"I felt like I could do it but there's a lot more involved in it than I thought. So I tried it, but I think I learned my lesson."
Demolition of the Jim Bradley building on the 7.7-acre lot was underway in September 2011 but plans to open in late-summer 2012 also went unfulfilled.
"We had a lot of different contractors and they were interfering with each other's work," Johnson said.
"One contractor would come in and rip out cables that had just been laid by a utility two days before. It was difficult figuring out who's doing what and who's responsible for what." In the end, Johnson said he came out of the experience excited to sell cars and with a newfound respect for the construction industry.
"You just can't do it as an individual," he said.
"It will never happen again, I will never try to be a builder. It's a tough task and there are so many different pieces that you have to coordinate to make something like this happen."
Ben Freed covers business for AnnArbor.com. You can sign up here to receive Business Review updates every week. Get in touch with Ben at 734-623-2528 or email him at benfreed@annarbor.com. Follow him on twitter @BFreedinA2