Posted on
Tue, Jan 12, 2010 : 12:01 p.m.
Minivan or sedan? 2011 Toyota Sienna engineered in Ann Arbor region
By Nathan Bomey
The Ann Arbor region's Toyota Technical Center conducted engineering on the redesigned 2011 Toyota Sienna minivan, which is on display at the 2010 Detroit auto show.
A key part of the redesign is that Sienna LE and XLE models now include a powered, lift-up seat that improves accessibility for people who need help getting into the vehicle.
It's the first time a major automaker has sold a factory-installed lift-up seat, Toyota says.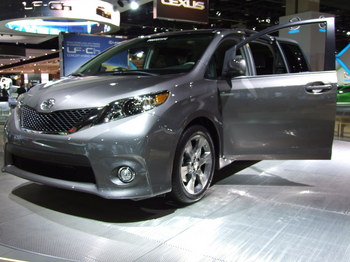 Nathan Bomey | AnnArbor.com
"It's really kind of a neat feature that's accommodating for people with disabilities," said Bruce Brownlee, senior executive administrator for external affairs for the Toyota Technical Center in York Township.
Brownlee said Toyota Technical Center engineers spent about 2 years working on the new Sienna, first introduced in December at the Los Angeles Auto Show.

Perhaps the most noticeable change for the Sienna, which will be available at showrooms in February, is that it almost looks more like a sedan than a minivan.

The Sienna minivan equipped with the Auto Access Seat will offer a much needed transportation solution for the caregivers of an elderly parent or spouse with a walking disability, a disabled veteran, or for the parents of child with a disability.

The Auto Access Seat features a one-touch operation and benefits from the all-new Sienna's spacious interior and wide-opening sliding doors. A seat-mounted ingress/egress switch and a wireless remote control allows for easy and flexible seat operation. The seat rotates 90 degrees and can be lowered to within 19 inches of the ground to further facilitate easier passenger transfers at the exact height required.

Once inside, the Auto Access Seat occupant can utilize reclining and slide switches located on both sides of the seat. This allows operation of up to four inches of slide travel and reclining of up to 24 degrees. The auto-recline feature also allows for safe head clearance through the door frame during entry and exit. The compact design of the seat also provides ample legroom for third-row passengers.
Contact AnnArbor.com's Nathan Bomey at (734) 623-2587 or nathanbomey@annarbor.com. You can also follow him on Twitter.