Posted on
Thu, Jul 8, 2010 : 3 p.m.
Ann Arbor welcomes Miss Michigan USA pageant move to U-M's Power Center
By Brian Vernellis
When Miss Michigan USA pageant officials visited Ann Arbor, the city's nightlife, restaurants and shopping combined to make the perfect pitch for relocating the competition from Port Huron.
Officials from the city and the Convention and Visitors Bureau on Thursday officially welcomed Miss Michigan USA representatives, including reigning Miss USA, Dearborn's Rima Fakih, to Ann Arbor at the Michigan Union.
The 2011 Miss Michigan USA and Miss Michigan Teen USA competitions will take place at the Power Center, Sept. 10-11.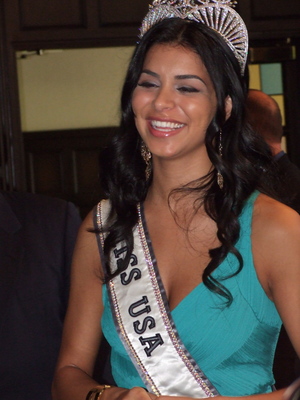 Brian Vernellis | Ann Arbor.com
Convention and Visitors Bureau officials project an economic impact of $375,000 to Washtenaw County and Ann Arbor as an estimated 100 contestants and up to 2,000 supporters and family members visit area hotels and restaurants.
"Some of the exciting aspects of Ann Arbor were the number of hotels, the proximity to the airport is great for us, the Power Center for the Performing Arts and the age demographic," said Melissa Pitchford, executive state director with the Miss Universe Organization.
"There is a large percentage of people that live in Michigan between the ages of 18 and 26, and that's our demographic. That's who we reach. We knew this would be a great fit for our product."
The proximity to Detroit should also make the event more appealing for Detroit media.
"It will be more convenient and easier for the greater Detroit area to get to Ann Arbor," Pitchford said. "With Michigan winning Miss USA, there's going to be a wonderful pull of media into the Ann Arbor area."
The pageant spent the last 10 years in Port Huron, but Kristy Poore, convention sales account executive with the Convention and Visitors Bureau, brokered the deal to woo it to Ann Arbor.
"They saw that we had a lot to offer as far as our community," Poore said. "The nightlife, the restaurants, the shopping. They're excited to be here.
"(Pitchford) came in, and we showed her what we had to offer, and once she saw the facilities we had, it was an easy choice to make."
Miss Michigan USA has a yearly contract with the city, so a return to the Power Center in 2011 isn't guaranteed.
"We always do our contracts annually, so it's something we'll have to visit annually," Pitchford said. "We'll have to experience the first time and see how it fits."
Miss Michigan USA 2011 will represent the state at the Miss USA competition in Las Vegas in the spring of 2011. Fakih's crowning as Miss USA came in May, and it's been a whirlwind for her since.
She's circled the globe visiting foreign dignitaries, but Thursday's visit was her first official return to Michigan as Miss USA.
Born in Lebanon, Fakih moved to New York as an infant. Her family moved to Dearborn in 2003. She earned a bachelor's degree in economics from the University of Michigan-Dearborn.
"My feet touched the ground a few weeks ago," Fakih said. "It's opened up so many doors. I got to host the USA Pavilion at the World Expo (Shanghai, China). This is not just what people see it as."