Posted on
Fri, Dec 17, 2010 : 6:01 a.m.
Downtown Ypsilanti's Mix combines art, clothing, housewares - and opera
By Wendy Ochoa
Ypsilanti residents Bonnie Penet and Leslie Leland met as fellow artists selling their goods at the Ann Arbor Farmer's Market. And on Dec. 3, they celebrated their first anniversary of moving into the brick-and-mortar retail realm as co-owners of Mix on Michigan Avenue in downtown Ypsilanti.
Mix lives up to its name selling an eclectic mix of new and old, household items and books, and clothing and art, Leland said. Penet's handmade "women of power" dolls and jewelry and Leland's hand-painted metal clocks are just some of the art available.

The clothing is what Penet called "gently used, high-end, arty clothing" that she selects from estate sales and other stores from around the country.
"We're really picky," said Penet. The high-end brands include Eileen Fisher, Flax, Coldwater Creek and Anne Klein.
"We'll go through a pile and only buy one or two or even none," Leland said regarding their selection process for items in the store. "It has to be near perfect."
Clothing is definitely the item that sells the best, said Penet. Also for sale are antiques, such as a pie safe or a 1920s-era kitchen hutch, being used as display pieces in the store.
"People really seem to get a kick out of the nostalgia," Penet said.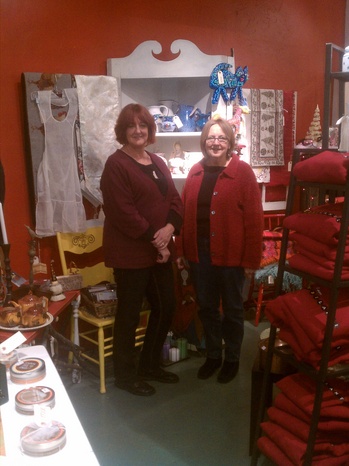 Wendy Ochoa | For AnnArbor.com
And for those seeking nostalgia, they will find items like a Baby Boo doll from 1965, brand new and still in the box when Leland found them at an estate sale. Other finds include a pristine set of enamel canisters from the 1940s, and Christmas ornaments from almost every decade.
"We're like a little department store," Leland said.
But Mix is also a budding community center offering several events open to the public.
On the third Friday of every month, they become an opera house by partnering with the nonprofit Opera on Tap. Mix rolls back the racks and sets up chairs, and Opera on Tap brings in various musicians to perform chamber music or opera. The next performance is tonight. It is free to the public, but Mix accepts donations.
"We just pass the jar and hope that we can pay the accompanist," Leland said.
And starting early this month, Mix started an alliance with The New Theatre Project to bring local playwrights in for readings. The events will be part of "The New Reading Series."
This is one in a series of stories by AnnArbor.com's Business Review about local retailers and their strategies during the biggest sales season of the year. Get more local business news by subscribing to the Business Review newsletter and breaking email alerts.
Wendy Ochoa is freelance writer in the news and business sections. She is also a journalism student at Washtenaw Community College where she writes for the Washtenaw Voice.