Posted on
Sat, Nov 17, 2012 : 5:58 a.m.
Mixed-use theater and magic shop to open in Ann Arbor's Kerrytown
By Angela Smith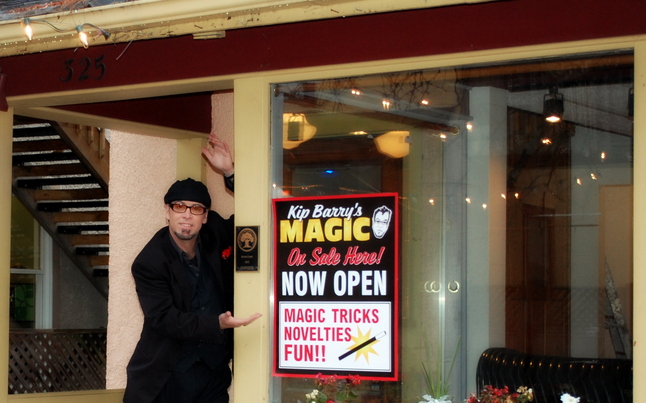 Angela Smith for AnnArbor.com
There is magic in the air in Ann Arbor, and it's not just due to holiday cheer.
You may have noticed Kip Barry entertaining kids and adults alike with magic tricks and other delights. Barry has performed all over the world, but when not on the road, he has recently been spotted in Westgate shopping plaza in front of Just Baked, and on Main Street in front of Elmo's as he amuses passers-by with everything from balloon sculptures to magic.
Barry is opening a more permanent headquarters in Kerrytown this month. At 325 Braun Court, it's the site that most recently served as a local office to the Obama for America campaign. Barry is designing the two-story space to be a performing arts center and magic shop that he calls "reminiscent of vaudeville." He's calling it Kip Barry's Magic and Performing Arts Center.
"I am opening a wonderful community-based combination magic studio/ performing arts center complete with a concession including cookies, cupcakes and soft drinks. A place to inspire creativity, imagination and the arts," he said in an email to AnnArbor.com.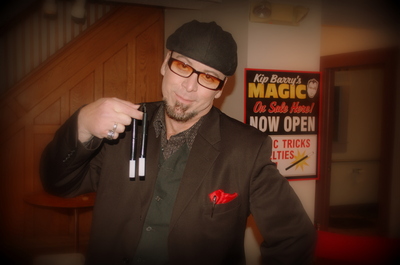 Angela Smith for AnnArbor.com
Barry envisions the space to be utilized by small theatrical groups, birthday party guests, and students of magic where he will also be able to perform and teach. The intimate performance area will have a platform stage with traditional burgundy curtains, and professional theatrical equipment. The retail area will be stocked with what Barry calls the finest magic and novelties available.
"Classes will also be available for (everyone from) the beginners to the advanced conjurers."
Barry says the newest establishment will be his sixth magic-related business; he's previously owned a magic shop in Naples, Fla. - Kip Barry's Magic, and tried a kiosk in Briarwood Mall. His performing history has taken him to every state and more than 60 countries.
Barry says his interest in magic developed as a 9 year old.
"I saw someone on TV, I think it might have been Marshall Brodien and that was all it took, I was off and running. My brother Pat bought me some little magic tricks from the local drug store and when I was able to fool him (my big brother!) I knew I had arrived."
Performing was never a hurdle to him, "I also came from a musical family; my mother played piano bar professionally and I was singing standards at age 5."
At the age of 15, Barry began working as a magician at Ted Carrothers Magic Studio in Toledo. He knew he was onto something when he had his first TV appearance that same year, on a show called "Kids Are People Too." At 18, he decided to attend the Chavez College of Magic in Colon, Mich.
Barry says he's met some big names and traveled far during the past few decades, but that a family emergency has caused him to move home and "settle down to be near friends family and roots," here in Ann Arbor. "Everything happens for a reason," he explains, "and I am most excited about my newest project."
Barry says he is picturing a cozy space, suitable for shopping and audiences of between 30 and 50 people. The main floor will house the theater, retail area and a concession area specializing in cupcakes. He was thrilled to find the area in Kerrytown where the atmosphere is decidedly family-friendly. "As an artist there isn't anywhere I would rather be!"
Barry expects that he will have the space ready to open in a matter of weeks. He'll start off selling gifts and magic and also offering snacks and refreshments. The shop will be open 11 a.m. to 7 p.m. Monday through Saturday, and 12-5 p.m. on Sunday. As for performances, he says the first one will be a Christmas-themed show on Dec. 5. Call Kip Barry's Magic and Performing Arts Center at (734) 985-5184 for details.