Posted on
Mon, May 27, 2013 : 5:59 a.m.
My first vegetable garden: Trials and triumphs of my newly discovered hobby
By Lizzy Alfs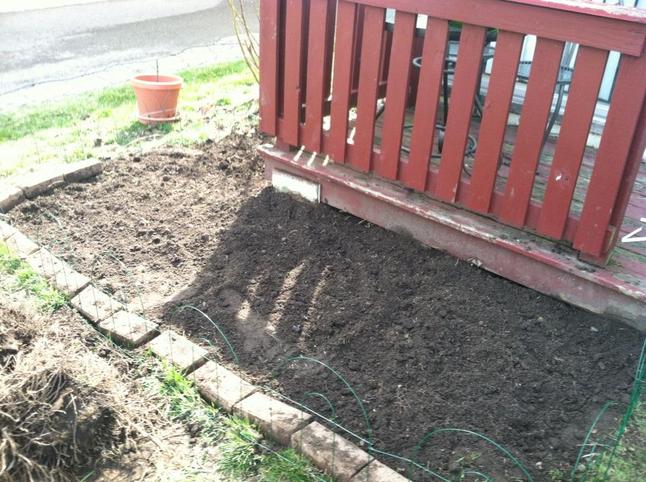 Lizzy Alfs | AnnArbor.com
It's an unlikely place to find flowers and vegetables.
My apartment building's lawn isn't exactly the picture of gardening perfection with its overgrown weeds and scattered cigarette butts.
But as I started to savor warm weather days, I wondered: How could I spend more time outside this spring and summer?
It occurred to me on a walk around my Old West Side neighborhood that gardening is a wildly popular hobby in Ann Arbor. The residents in the houses surrounding my apartment building spend hours perfecting their yards each week.
Want to start a garden?
And it's not just Ann Arbor: According to the National Gardening Association, about $2.5 billion is spent annually on U.S. home gardening. The Garden Writers Association reports that the number of U.S. households growing edible plants is expected to increase by 11.3 percent in 2013.
Growing up in Metro Detroit, I always questioned how my dad could possibly spend so much time working in our yard. I would get home from school and he'd take me on "tours" through his vegetable garden. I usually just rolled my eyes.
But I decided this spring that starting a small vegetable garden would mesh with some of my other new hobbies; I recently fell in love with the Ann Arbor Farmers Market and I started cooking in response to a money savings plan I started last year. So why not garden, too?
First, I had to conquer my severely neglected "garden" area outside my apartment's porch. But let's be real, picking up a gardening habit with no background knowledge isn't easy.
I got the OK by my landlord to move forward with my gardening plans, and then I did some online research. (Oh, and called my dad about 20 times for advice). Mother Nature Network has an online guide for first-time gardeners where I learned a key piece of gardening advice: You'll learn as you go.
I started by purchasing the least expensive gardening supplies I could find, only to have my trowel break on my first day in the garden.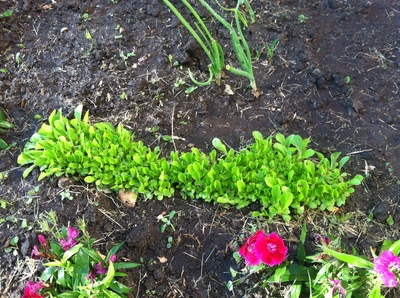 Lizzy Alfs | AnnArbor.com
While I was weeding and preparing the soil, I discovered some frustratingly deep — and dead — plant roots that I could not unearth.
Slightly desperate-looking but still determined, I knocked on neighbors' doors and borrowed a spade (if you're like me, you have no idea what that is), and put some serious elbow grease into removing those tangled roots. Someone said they might be hostas, but I still have no idea. (You can sort of see the uprooted plants on the left-hand side of the picture at the top)
I quickly had to get over my fear of worms and slugs, and I dealt with the fact that it was freezing and rainy. My hands and knees hurt and I got weird stares from my apartment building neighbors.
Still, after three hours of work, I had prepared the perfect little garden area.
Since that first weekend, I've put cute flowers around the edge of the garden, and I planted green onions and lettuce. Like a proud mama, I've been showing everyone a picture of my sprouting lettuce. (I'm fairly certain I planted it wrong and it won't grow to fruition, but I'm still happy)
I prepared pots with herbs, including basil, cilantro, mint, lavender and rosemary. I planted tomatoes, cucumbers and a few peppers.
Spending time taking care of my garden is definitely work, but I always feel accomplished and I love knowing that I'll eventually be able to eat what I'm growing.
As it turns out, my dad was right to be proud of his vegetable garden. And I just discovered an incredibly rewarding hobby.
Lizzy Alfs is a business reporter for AnnArbor.com. Reach her at 734-623-2584 or email her at lizzyalfs@annarbor.com. Follow her on Twitter at http://twitter.com/lizzyalfs.