Posted on
Sat, Aug 17, 2013 : 5:58 a.m.
NASCAR driver surprises Ann Arbor military family with revved-up home visit
By Ben Freed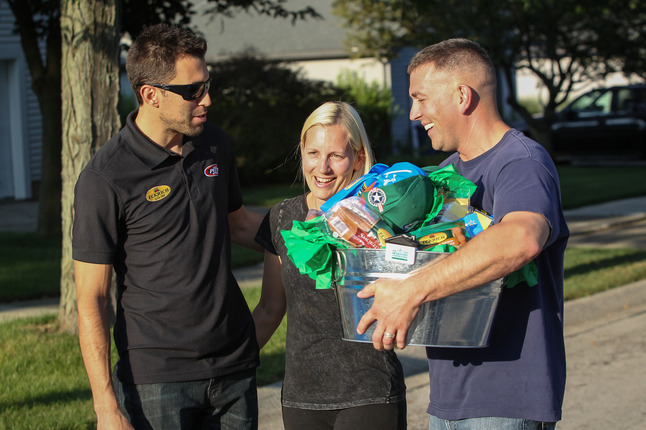 Courtesy Eckrich
Car alarms sounded and dogs barked in quiet Ann Arbor neighborhood Thursday evening, but the disturbance was a welcome surprise for Sergeant First Class
Howard Kott
as a full sized replica
NASCAR
stock car revved at full volume up to his house.
Kott had been approached earlier in the week about receiving a pair of tickets for the NASCAR race on Sunday at the Michigan International Speedway from Operation Homefront, a non-profit organization that provides financial and other assistance to wounded veterans and active duty service members.
"They said they were looking for a soldier in the area who wanted a couple of tickets and I just happened to be the only active duty soldier in Ann Arbor who was there to claim them," he said.
"I watch a fair amount of NASCAR and I went to the National Guard 200 a couple months ago, so I thought I knew what I would be getting myself into."
Kott was at his home on Northbrook, near Ann Arbor-Saline Road, with his wife Dawn when Sarah Davis from Operation Homefront came to drop of the tickets and suggested they go outside to get something additional gear for the race out of the truck.
"There was a TV crew standing between our yard and our neighbor's yard, and we didn't know who they were or where they were from," Kott said.
"But they weren't facing us, they were facing down the road. That's when we heard all the noises start. We hear people's alarms going off and dogs barking and here comes the No. 43 car revving his engine down my quiet Ann Arbor road."
Sprint Cup Series Driver Aric Almirola piloted the car, a replica of the stockcar that will race in the Pure Michigan 400 Sunday, right up into the couple's driveway.
"My wife was overwhelmed, and I didn't know what to say myself," he said.
"Within a few seconds it's like a crazy realty check of 'wow, we have a race car in our front yard.' It's really kind of a mind-blowing experience."
Almirola hopped out of the car to present Howard and Dawn with a series of gifts, including VIP tickets and special gear for the race on Sunday. The car's sponsor, Eckrich, a meat producer and part of the John Morrell Food Group provided the gifts and prizes for the family.
"They gave us the same kinds of jerseys and hats that the crew wears so we're part of a pit crew for the day," he said.
"They said I can do one thing one time with the crew, so I'm not sure what it's going to be yet. I might just be the guy that hands him a Gatorade."
Howard and Dawn have lived in Ann Arbor for about a year and Sergeant Kott works closely with local university students in his current posting as an Army recruiter.
"I work with the University of Michigan and Eastern Michigan ROTC enlistees who decide they want to go into the Army Reserves," he said. "I'm here to answer questions for them and provide support."
Kott, who grew up near Muskegon, served two tours of duty in Iraq. His first tour was in 2003 in the initial invasion with the 180th Transportation Unit. He returned to the Middle East in 2007 as part of the troop "surge."
"We want to keep recognizing, honoring and thanking our military veterans, wounded warriors and their families," Almirola said in a statement.
"They have made a tremendous sacrifice for us to enjoy our freedom and to allow me to race each weekend. It's just a lot of fun to give back and say thanks in a different way. Eckrich and Operation Homefront are really good at doing that."
Kott and his family will be given a pace car ride around the track on Sunday and attend the drivers meeting with Almirola before they take their places with the pit crew for the race.
The green flag starting the Pure Michigan 400 is scheduled to wave at 1:16 p.m. on Sunday.
Ben Freed covers business for AnnArbor.com. You can sign up here to receive Business Review updates every week. Get in touch with Ben at 734-623-2528 or email him at benfreed@annarbor.com. Follow him on twitter @BFreedinA2