Posted on
Wed, Mar 14, 2012 : 1 p.m.
National Pi Day: Free pie at pi time at Grand Traverse Pie franchise
By Nathan Bomey
Are you celebrating pi with pie?
At 3:14 p.m., you'll have your chance at the Grand Traverse Pie Co. franchise on Zeeb Road in Scio Township.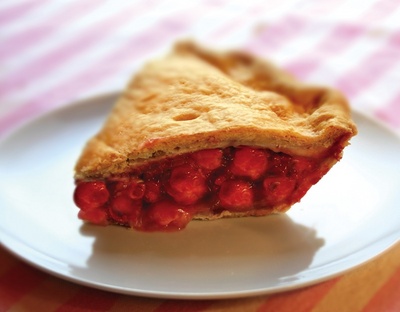 Photo courtesy of Grand Traverse Pie Co.
The franchise will be distributing a free slice of "
Michigan fruit-filled pie
" to all customers in the store at 3:14 p.m. today — 03/14/2012 — in honor of
National Pi Day
.
The promotion will last for, yes, 31.4 minutes.
The mathematically enhanced promotion is a collaboration between the Michigan Department of Agriculture & Rural Development, the Michigan Farm Bureau and Grand Traverse Pie Co.
It turns out that it's also Michigan Agriculture Day.
"Today Michigan highlights two of my favorite things — math and agriculture," Gov. Rick Snyder said in a statement. "Both play key roles in driving Michigan's reinvention."
Pi, of course, is the numerical value representing the ratio of the circumference of a circle to its diameter. It starts 3.14159, followed by an infinite number of figures.
Owned by Dave Ziegler, the Grand Traverse Pie franchise on Zeeb north of Jackson Road is the only location in Washtenaw County for now. Ziegler recently signed a lease to open a new Grand Traverse Pie franchise on East Liberty Street in downtown Ann Arbor.
Renovations recently started on that franchise, which is located in a spot formerly occupied by Big Boy restaurant concept @burger.
Contact AnnArbor.com's Nathan Bomey at (734) 623-2587 or nathanbomey@annarbor.com. You can also follow him on Twitter or subscribe to AnnArbor.com's newsletters.