Posted on
Sun, Sep 2, 2012 : 5:58 a.m.
Nearby residents, business owners and tenants react to the new Landmark high-rise: What do you think?
By Ben Freed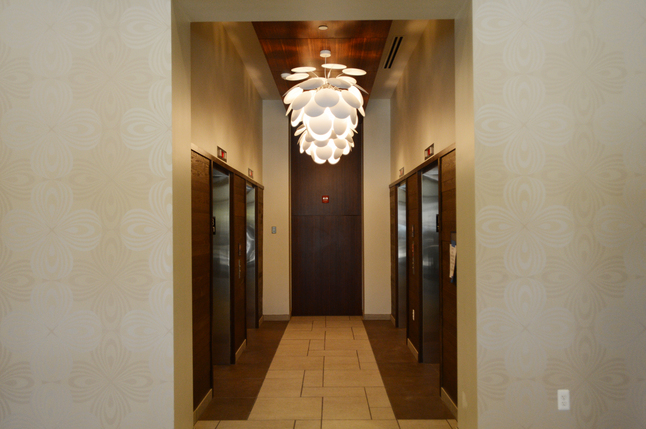 Melanie Maxwell I AnnArbor.com
As the
finishing touches
are put on the brand new
Landmark
apartment building on the corner of
South University
and
South Forest avenues
, its effects already are being felt economically, aesthetically and even emotionally.
"I mean, it's just changed the whole landscape of this area," Joel Elconin said. "It's a monstrosity."
Elconin is in Ann Arbor from West Bloomfield to help his daughter move into the house right next door to the new 14-story, 606-bed development. His daughter — a fourth generation Wolverine — and himself do not believe the previous generations would look kindly on the project.
"It's a good thing my dad is not alive to see this," he said. "He would be so disappointed."
But the students were far more positive in their estimation of the building, which was developed by Ron Hughes of Hughes Properties and is owned by Campus Acquisitions
The biggest complaint: tenants have to wait one more day before getting their room keys.
"I just can't wait to move in," U-M junior Rachel Rosen said. "I chose to live here because it's the newest and nicest apartment building. Everyone is living here; it's basically going to be like a big frat house."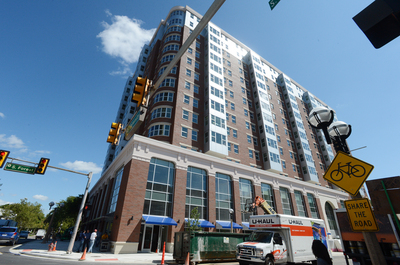 Melanie Maxwell I AnnArbor.com
Rosen and her friends — all in the Kappa Alpha Theta sorority — were on South Forest taking in the exterior of the building Wednesday afternoon.
Despite referring to the building as an "eye-sore," the girls were willing to overlook the building's exterior to focus more on the benefits of the building's location.
"I would have been in this area a lot anyway, but now we'll be much closer to Blue Lep[rechaun] and Insomnia Cookies, and all of the places along South (University)," Rosen said.
"So I guess we'll have easier access to the late-night food."
Junior Nick Kim is living in an apartment two doors down on South Forest, and said he's not as thrilled with the prospect of so many hard-partying students living close by. He said he considered living at Landmark, but determined it was "way overpriced."
"I'm a little bit nervous about the noise level that will be coming out of there," he said.
"There are probably going to be a lot of parties, especially on the weekends."
Prime Student Housing, the company that lists most of the apartments and houses directly adjacent and across the street from Landmark, had no problem filling their beds even with the new real estate in the area.
"We were able to rent everything, the same as last year," assistant manager Cevone Smith said.
"There's nothing wrong with them being there, and there's nothing wrong with variety and options. Right now, their price point is significantly higher than ours. I wouldn't start to worry unless their prices started to drop."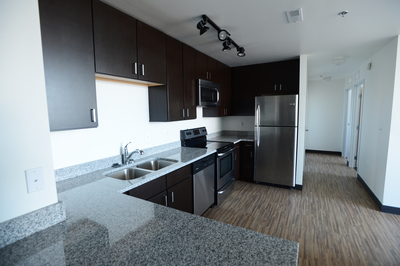 Melanie Maxwell I AnnArbor.com
Businesses in the surrounding blocks are expecting an increase in traffic as students move into the new apartments and some, like the Blue Leprechaun, have even starting to cater to their new neighbors.
"We opened up the Study Hall Lounge this summer with the idea that it would be catering to many of the students moving in to Landmark," general manager Mike Gradillas said.
"It's an underground lounge, and we wanted to give it the feel of a bar you might find in Chicago or New York City. A more upscale feel that we think South University is (now) ready for."
The opening of Landmark brings 600 students to the downtown area. Including the new City Place and Zaragon West developments, downtown Ann Arbor's residential capacity has grown by nearly 1,000 beds this year. It has been extremely rare for Ann Arbor to experience that kind of single-incident residential growth. According to census data, the downtown population only grew by 151 people between 1990 and 2000.
While many of the businesses are pleased with the prospect of 600 additional students living nearby, the downside for some residents is that institutions, such as the Village Corner, a branch of the Campus Student Bike Shop, and two historic houses had to be torn down to make way for the new development.
"I'm going to miss coming to the Village Corner," U-M social work grad student Halla Motawi said. "For me, groceries are more important than having a bunch of new apartments."
Maggie Ladd, director of the South University Area Association, said despite the loss of some older structures, Landmark vindicates the city's decision to change the zoning and allow structures taller than two stories in the area.
The area was re-zoned in 2006 to allow for denser buildings with unlimited height; they were restricted in 2009 to 170-feet, about 16 stories.
"As soon as the zoning was changed, Zaragon started (construction) and the Landmark (came after)," she said. "There are a couple more projects in the pipeline and we're hopeful that this isn't just going to be one or two buildings, but it will be more that that. We're hopeful that the next projects will be smaller apartments and more suitable for non-student residents that will be there 365 days a year."
Ben Freed covers business for AnnArbor.com. Reach him at 734-623-2528 or email him at benfreed@annarbor.com. Follow him on twitter @BFreedinA2