Posted on
Mon, Dec 3, 2012 : 5:16 p.m.
New national consortium could help Michigan medical device companies
By Ben Freed
Michigan's biosciences industry association, MichBio, will be a player in a new Medical Device Innovation Consortium announced Monday in Washington, DC.
MichBio executive director Stephen Rapundalo said the new consortium will help small and midsized medical device companies by making high-level regulatory science advances available to all companies that join the group.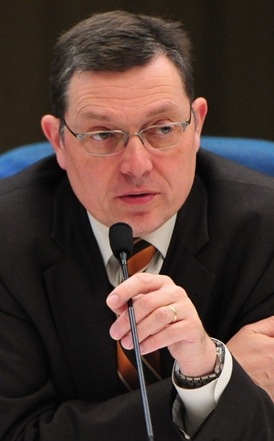 Ryan J. Stanton | AnnArbor.com
"A lot of small companies do not have the means to tackle these challenges [in testing their products]," he said.
"So by participating, and it will be affordable, they will be able to benefit from whatever is developed from the pooled resources of a mass of companies. That way they can ensure their product's safety and effectiveness and get it approved more quickly."
The consortium is a national public-private partnership between the U.S. Food and Drug Administration's Center for Medical Device and Radiologic Health, medical device companies, and patient advocacy groups. A nonprofit organization will be created to administer the partnership.
The consortium's interim executive director Dr. Maura Donovan said on a conference call Monday that the organization's founding board will have representatives from the FDA, the medical device industry, patient advocacy groups, nonprofit organziations and government agencies.
"That broad involvement is something that we want to extend to our sub-committees as well," she said. "We think it's important to have a combination of industry and government leaders."
The new consortium plans to focus on developing new scientific and engineering tools assess the safety and effectiveness of new medical devices. This process, known as regulatory science, is often extremely expensive and can involve testing with animal and human subjects.
Dale Wahlstrom, president and CEO of LifeScience Alley, MichBio's sister organization in Minnesota, said that developments of new technologies can help reduce testing in live subjects make products safer and more dependable before they are introduced.
On Monday's conference call he referenced a line of device that utilize electrodes implanted in the brain to help people control prosthetic limbs as one potential beneficiary of the consortium.
"… The problem is that once in brain these electrodes can degrade, and we don't have a way to test that process without putting them into people," he said. "Instead, we are working developing an artificial brain that can mimic the brain so you can implant the device in that and see how durable it is."
Rapundalo said that the evelopment of these types of technologies can be extremely expensive and out of reach for smaller medical device companies. He believes that having a consortium that will work together to create the testing environments will allow for both safer products and speeder FDA approval.
The consortium's funding will come primarily from its industry members. Donovan said the founding members have contributed approximately $500,000 and that the consortium hoped to raise a total of $1 million to cover operating costs and seed funding for initial projects.
No Michigan companies have signed onto the project yet, but MichBio's role will be to connect local medical device creators with the resources that the consortium makes available.
Rapundalo is also currently serving as the chair of the State Medical Device Technology Alliance. In that capacity he will be working with state-based industry groups like MichBio to ensure that they are up to speed with the initiative.
Ben Freed covers business for AnnArbor.com. You can sign up here to receive Business Review updates every week. Reach out to Ben at 734-623-2528 or email him at benfreed@annarbor.com. Follow him on twitter @BFreedinA2