Posted on
Mon, Aug 22, 2011 : 5:57 a.m.
New Downtown Diner in Saline offers diverse, 'innovative' fare
By Laura Blodgett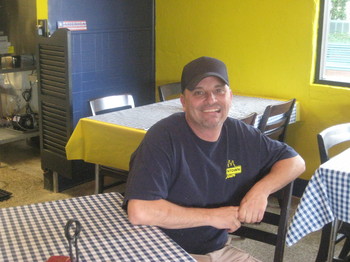 Laura Blodgett | For AnnArbor.com
A new restaurant opened this month in downtown Saline in the Merchant Square Building located at 131 E. Michigan Ave.
Tucked in the back, Downtown Diner serves breakfast and lunch, featuring diverse items such as Ahi tuna sandwiches, salmon BLTs, Philly sandwiches, Kahlua and cinnamon creme French toast, and mixed berry crepes. The restaurant also specializes in slow-roasted pulled pork and beef brisket.
"I make things from scratch like my corned beef hash, gravy and biscuits, and all my soups," said Terry Thompson, who partnered in the restaurant with longtime friend Mark Marsh, whom he grew up with in Whitmore Lake.
This is the second restaurant for Thompson, who previously owned T's City Diner in Ypsilanti with his brother before they decided to part ways.
He was working next door at Dan's Tavern when he came across the vacant restaurant space.
"I always planned to reopen another restaurant," Thompson explained. "I came outside one day to get some air and I was sitting there staring inside this empty restaurant. I called and they said it was available and that's where it started."
The space had been vacant for almost two years after housing a series of restaurants. A successful restaurant called Pasties & More was there when the building was purchased in 2005 by Bill Kinley, president and owner of The Phoenix Co., a property management and construction company.
"Pasties & More specialized in a kind of meat pie and did very well in Saline," explained Kinley. "When the couple who owned it decided to move back up north, another woman took over and it became very successful specializing in breakfast and lunch."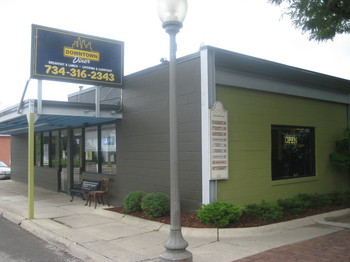 Later, the restaurant changed hands again and Kinley suggested that the new owners change its name to Downtown Diner, even going so far as to register the name and purchase signage.
The owners' friend took over the lease for a short time and reopened the space as a coffee shop called the Back Door Café, which quickly folded.
Kinley believes the new owners are a good match for the space and is optimistic that they will do well.
"Terry has a much better feel for the menu, and is putting some innovative items on it which will be a draw for breakfast and lunch. He has good experience as a chef at a number of places."
Merchant Square houses seven commercial units such as The Bling Thing, an optometrist and the Saline Area Chamber of Commerce as well as 15 second-floor apartments, all currently occupied.
It took the team almost six weeks to clean, repair and paint the 1,980 square-foot space in Saline Hornet or University of Michigan colors, depending on your viewpoint.
The diner's competition includes City Limits and Saline Inn, about a mile in either direction, but Thompson is optimistic.
"We are right downtown and there is a lot of business here during the week. Although we just opened Aug. 9, we have been very busy for lunch. People like our all-you-can-eat salad bar."
Thompson plans to add a few tables to the outdoor garden area adjacent to the restaurant.
Downtown Diner is open from 6 a.m. to 3 p.m. seven days a week. In addition to dine-in and carry out, the restaurant also offers catering. A grand opening will take place at a future date.