Posted on
Mon, Jan 21, 2013 : 5:59 a.m.
New local United Bank & Trust president sees further growth in Ann Arbor and Brighton
By Ben Freed
United Bank & Trust hired a new Washtenaw community president Jan. 14 to take over the bank's operations in both Washtenaw and Livingston counties.
Todd Clark, who had been serving in the position as well as being chief banking officer, said the change in hierarchy was necessary.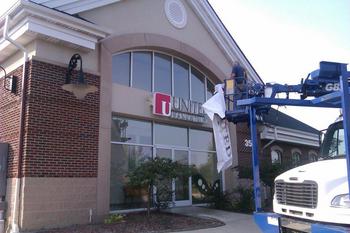 Courtesy UB&T Facebook page
"For the last two years I've been playing dual roles," he said.
"The Washtenaw community president role has been extremely active, especially with us going into Livingston last year and opening up in Brighton. There's a ton of growth potential there."
The new community president, Raymond Webb, comes to Ann Arbor from Fifth Third Bank in Cincinnati where he was a senior vice president of retail banking. He said he is looking forward to his new role that will put him back into close contact with customers.
"As I was looking for my next career opportunity, I wanted to get into community banking," he said.
"I think there is such a higher level of entrepreneurship and you have the ability to get things done and serve the market so much better in a local bank… I spent most of my career in front of the customer, and for the past three years I was unable to do that. I'm really excited to get back into that direct connection role."
Webb and Clark both said they see potential for future growth in both Washtenaw and Livingston counties. The bank's Brighton branch, opened in 2012, is their newest, and Clark said they expect more to come.
"There are a lot of opportunities in the market across our lines of business," he said
"Small business leases, commercial leases, residential, helping individuals with their basic banking needs, and also our wealth management services. Ray [Webb] is going to be the catalyst to drive all of those lines forward."
Get Ann Arbor news in your inbox
Keep your finger on the pulse of the Ann Arbor business community by signing up for the Business Review newsletter sent out early every Thursday morning. You can also sign up for the daily 3@3 email to see our best local stories every day.
Webb said his first focus will be to learn the community and see what UB&T can to do serve local needs, which does not necessarily mean building more branches right away.
"Our industry is changing so much right now, and electronic and mobile delivery is so much more important than it was a few years ago," he said. "That's a place we'll continue to focus. The combination of brick-and-mortar and online will lead us to success in the future."
United Bank & Trust has completed a long climb back after being hit hard by the economic downturn in 2008 and 2009 that rocked the banking world. The company took TARP funds from the federal government and was able to buy back the warrant in July of 2012.
The bank reported its third quarter of 2012 was its fourth straight quarter of profitability and sixth since the end of 2010. It also re-branded in September with a new slogan and logo.
Ben Freed covers business for AnnArbor.com. You can sign up here to receive Business Review updates every week. Reach out to Ben at 734-623-2528 or email him at benfreed@annarbor.com. Follow him on twitter @BFreedinA2