Posted on
Wed, Feb 27, 2013 : 5:58 a.m.
New Mark's Carts food vendor El Manantial will serve authentic Mexican food
By Lizzy Alfs
Related story: Ann Arbor's Satchel's BBQ to join vendor lineup at Mark's Carts this year
Mariano Rodriguez started working at his parents' restaurant in Mexico when he was seven years old.
Years later, when he moved to Ann Arbor and got a job in the construction business, Mariano never lost his passion for cooking. That's why he plans to join the lineup of food vendors at Mark's Carts in downtown Ann Arbor this year.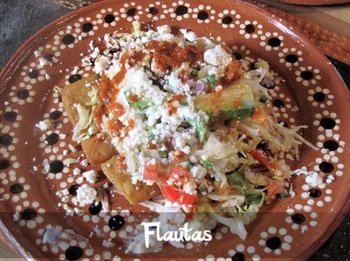 Courtesy photo
"I grew up doing this," he said. "Finally, we can do what everybody in my family is doing."
Along with his wife, Gwen, Mariano plans to open El Manantial on April 1, when Mark's Carts kicks off its third season. The food courtyard is located off West Washington and South Ashley streets, behind Mark Hodesh's Downtown Home & Garden store.
El Manantial will serve authentic Mexican food, including flautas, tortas, gorditas, tacos and tostadas — just like Mariano's mother cooks at her restaurant in Mexico. It's food Mariano and Gwen feel passionate about, and they've been cooking for friends and catering out of their house for years.
"We're not changing anything," Gwen said. "If it's not exactly like mom prepares it, then that's because we can't get the ingredient here."
"This is going to be what regular, middle class people eat in Mexico," Mariano added.
Mariano said the food will be prepared using plenty of dried chiles and herbs. They have been talking with farmers to try and use locally-grown ingredients.
"We really want to get shifted over to using locally-grown things because of the taste and because things are fresh," Gwen said.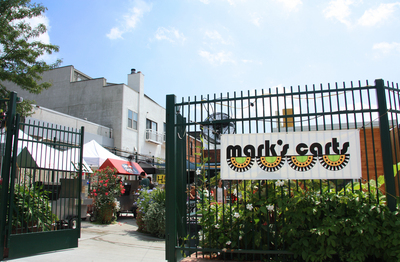 AnnArbor.com file photo
They're hoping to hire several employees and Mariano's mother also will be helping out when she visits from Mexico.
Because it's expensive to open a brick-and-mortar restaurant, especially in downtown Ann Arbor, Mariano said Mark's Carts was the perfect place to start his business. He also launched a Kickstarter campaign to try and raise funds for the food cart and other expenses. (View the video)
"It's not going to be big, but it's going to be good," he said.
Mark Hodesh launched Mark's Carts in summer 2011 on a vacant plot of land behind his store. The courtyard struck a chord with diners, providing a quick, $5 to $10 meal with food options all over the map. The courtyard also served as a launch pad for several of the vendors that went on to open their own restaurants, including EAT and The Lunch Room.
"We're pumped to be back at it for our third season, because the Carts offer people the chance to get out and get their fill of real food from real people," Hodesh said in a statement. "It's become a community hub and we're excited that folks come here not just to eat, but to hang out, meet old friends and make new ones."
Returning food vendors at Mark's Carts this year include: San Street, Hut-K Chaats, A2 Pizza Pi, Beet Box and Cheese Dream. El Manantial and Satchel's BBQ will be new to the courtyard.
Lizzy Alfs is a business reporter for AnnArbor.com. Reach her at 734-623-2584 or email her at lizzyalfs@annarbor.com. Follow her on Twitter at http://twitter.com/lizzyalfs.