Posted on
Sun, May 26, 2013 : 5:58 a.m.
Newer Max & Bella's public restaurant boosts business at Ann Arbor Country Club
By Lizzy Alfs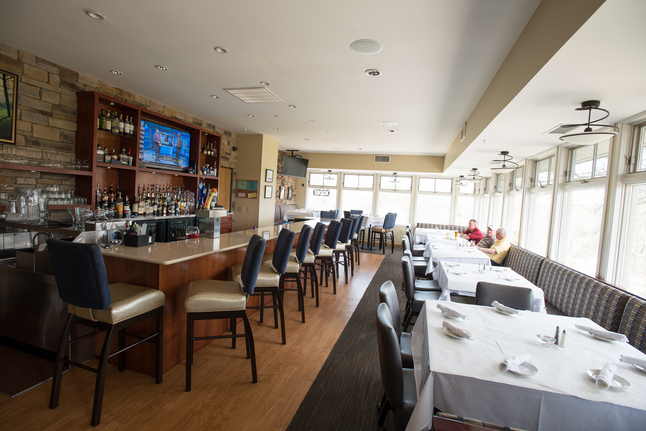 Courtney Sacco | AnnArbor.com
Twenty-year food industry veteran Aaron Peggs knew the restaurant at the Ann Arbor Country Club needed a drastic overhaul.
Peggs — who was hired by the club's new owners last year — decided to temporarily close the existing restaurant in the clubhouse, hire and train new staff, roll out an entirely new menu, and change the restaurant's name.
Max & Bella's On The Green officially opened in early 2013 and Peggs estimated business has increased by more than 100 percent in the past several months.
"We've seen a tremendous growth in business," he said. "I pretty much came in and structured this like it was a brand new restaurant."
The semi-private Ann Arbor Country Club is on 200 acres between Ann Arbor and Dexter in the Loch Alpine neighborhood in Webster Township. Club ownership shifted when a West Virginia investment group, A2C2 LLC, bought the mortgage after a bank-ordered sale in 2010. The club's assets were transferred to the group six months later and the restaurant and golf course were opened to the general public.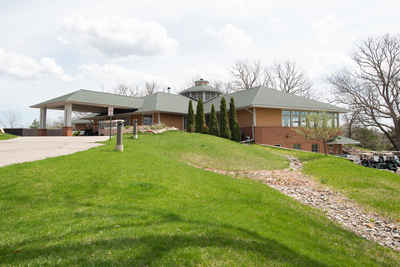 Courtney Sacco | AnnArbor.com
Faced with declining golf membership and sluggish business at the restaurant, the new owners hired Peggs as executive chef and operations manager. Peggs trained at the Culinary Institute of America and has operated various restaurants across the country. In 2006, he founded a food consulting business, Team Cuisine LLC, which works to turn around struggling restaurants.
Peggs' task at the Ann Arbor Country Club: Convince residents in Loch Alpine and neighboring subdivisions to eat at the club instead of driving to other restaurants.
"I thought (they were) missing a lot of opportunity here in the neighborhood," Peggs said. "Instead of having these people drive to Dexter and Ann Arbor to eat, (we need to) capture that. We have 1,000 homes around us."
Michael Weikle, who lives in the neighborhood and represents the new owners of the Ann Arbor Country Club, said he's also trying to convince diners across Washtenaw County to come eat at the "family-focused" restaurant. The biggest challenge, he said, is that people don't know the club and restaurant exist.
"All of a sudden, we have a chef with the ability to put together a menu and a sous chef (Michelle Taylor) who can execute," Weikle said. "I want people to say, 'Let's meet at the club.' "
The new menu at Max & Bella's On The Green emphasizes fresh and seasonal ingredients sourced from local purveyors.
"Everything prior to me came out of a box and can, and now everything is made from scratch with the farm-to-table idea," Peggs said.
The menu includes appetizers, salads, pizzas, burgers, sandwiches and entrees. A kid's menu also is offered. Peggs said some of his favorite dishes are: Vol-Au-Vent, a grass-fed sirloin with a marsala mushroom base; the wedge salad; and the Salmon En Papillote, which is baked in parchment paper with vegetables and rice. Peggs said meals range from $10 a plate to $30 a plate.
The restaurant now serves Michigan microbrews and has an increased liquor line, including high-end products and liquors from local distilleries.
Peggs said he plans to change the menu seasonally and he's receptive to feedback or special requests.
"We're really customer-service based. … I always tell people, if there's anything they don't see on the menu and they're craving it, just let me know and we'll make it. … We have a lot of talent in our kitchen," he said.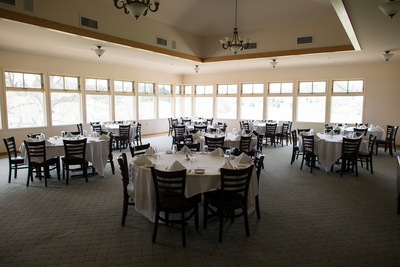 Courtney Sacco | AnnArbor.com
As part of the overhaul, the club hired new staff and renovated the dining area. It's also expanding its events business and plans to host luaus, movie nights by the pool and a lobster boil. Peggs brought in a competition-sized smoker and plans to make ribs, pulled pork and smoked chickens for the outdoor events, which will be open to the public by reservation.
"I have nine different events going at the pool this summer. … I'm trying to think: How can I get more business in here?" he said. "It's either make or break us right now."
Instead of hiring a separate catering company for private events, the club can now customize menus and prepare the food. And when the club's snack shop opens at the pool on Memorial Day weekend, it will have a new menu with healthier options.
"This was the hangout place in the 1970s, and that's what I'm trying to give rebirth to," Peggs said. "(We're trying) to bring back the community and make it a social event place and have it become a safe haven for parents and kids."
The hours at Max & Bella's On The Green are: 11 a.m. to 4 p.m. on Friday, Saturday and Sunday for lunch, and 5 p.m. to 9 p.m. Tuesday through Sunday for dinner.
Lizzy Alfs is a business reporter for AnnArbor.com. Reach her at 734-623-2584 or email her at lizzyalfs@annarbor.com. Follow her on Twitter at http://twitter.com/lizzyalfs.