Posted on
Fri, May 11, 2012 : 5:56 a.m.
Micro-philanthropy group provides grant for planned downtown Ypsilanti cafe
By Tom Perkins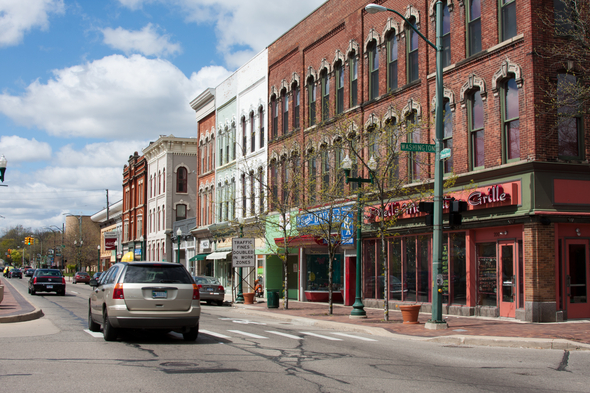 Steve Pepple | AnnArbor.com
A financial boost from micro-philanthropy group A2Awesome has put two local chefs closer to opening a new café in downtown Ypsilanti.
A2Awesome awarded a $1,000 grant - exactly the cost of a food establishment license - to the women behind the underground Bona Sera Supper Club during a meeting at the former J Neil's Mongolian Barbecue and current Mix Marketplace.
A new 60-seat café at the location could be open by July 1, though Bona Sera's chefs aren't new in the Washtenaw County culinary circuit. For several years, they hosted the Bona Sera Supper Club, which has raised $20,000 for local charities since early 2009.
But there has been one significant problem: The secret suppers remain "underground" because health department regulations prohibit people from serving meals to upward of 70 guests without a certified and approved kitchen. The chefs behind Bona Sera go by Wonder Woman and Bad Fairy because the want to remain anonymous over concerns that the health department could shut them down.
Bona Sera announces dinners two weeks prior to the date via email to those signed up through their website. Guests can secure a spot by donating, and two days before the dinner the menu and location are revealed. The venues can range from barns to homes to warehouses, and the average dinner is for around 40 guests.
The new space at the former J Neil's and Mix Marketplace is owned by Maurer Management and leased to Bonnie Penet and Leslie Leland, who run Mix Marketplace and neighboring Mix.
The new space will provide Bona Sera the commercial kitchen that will allow them to continue with the charitable supper clubs as well as establish a for-profit café.
Still, the supper clubs will remain invite only occasions and their locations will continue to be revealed only days beforehand.
"We won't be quite as underground and we will still be operating only by word of mouth," Bad Fairy said. "People will only find out where it's going to be two days before the event. We still sort of like the whimsy of not really saying where it's going to be."
While the Bona Sera Supper Club menu is experimental and incorporates a variety of styles in its plates, the Bona Sera Caé will be slightly less adventurous.
Bad Fairy said some of the options will include tom yum shrimp and grits, or Vietnamese banh mi sandwiches on Chinese buns with tom yum shrimp or Italian porchetta.
The kitchen also will likely be rented out at an hourly rate to small startup food companies or those covered under the cottage food laws.
Renovations will be minor and include a new floor and fresh paint, and there has been discussion about a martini bar in the former Keystone Lounge downstairs from Bona Sera, though Leland declined to comment further on those plans.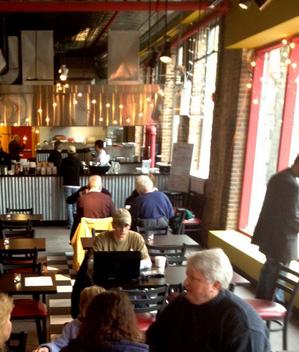 Via Facebook
Bad Fairy said downtown Ypsilanti was selected because she and Wonder Woman hope to someday run a food truck, which are prohibited in Ann Arbor. She said she is confident the concept will be a good fit in downtown Ypsilanti and said the area continues improving with the addition of restaurants like Red Rock Downtown Barbecue and the newly renovated Wolverine Grill.
"It seems like downtown Ypsi is getting a little more foot traffic, and it's going to be interesting to see if we can pull a couple people in from Ann Arbor who normally wouldn't come to Ypsilanti. We're pretty excited about it," Bad Fairy said.
Groups Bona Sera has raised money for include Lansing Area AIDS Network, Washtenaw Interfaith Community, Alternatives for Girls, HARC, AIDS Partnership Michigan, Camp Take Notice, Ann Arbor School for Creative and Performing Arts, The Neutral Zone. Ozone House-Kicked Out Fund, Jazzistry, US Positive Women's Network, The Ann Arbor Skate Park, Uncle Rocky's Place, Growing Hope, Ride For AIDS and Friends of the Ypsilanti Freight House
The A2Awesome grant for Bona Sera is the third it has awarded since establishing itself, and awards for other projects will continue monthly. Its dean, Ypsilanti blogger Mark Maynard, said the Bona Sera project was selected because it will help fill a vacant space in downtown Ypsilanti, create jobs and the secret supper club raises a significant amount of money for local charities.
The Awesome Foundation was created in Boston in 2009 and there are now more than 30 chapters nationally and three in Michigan, including Grand Rapids and Detroit. The aim is to provide a shot in the arm for causes that might not be able to find funds through traditional grants or other routes.
Each group member contributes $100 a month toward a $1,000 grant that is then awarded to a person or people with an idea for a project that will benefit the community in different ways and on multiple levels.
"It's a manageable amount, and $1,000 can make a huge difference in a project," Maynard said.
"There isn't any particular theme, we don't answer to anyone, it's not a 501c3, it's just personal philanthropy."
The first grant was awarded to an Ann Arbor man who operates a bike-powered grow rack for vegetables. The man demonstrates how it works at local schools, and Maynard it's an innovative, outside-the-box project that is beneficial on multiple levels and an educational project.
The second grant was awarded to the Ozone House to help it build a gym inside its Ann Arbor residential facility. Previously staff there would have to take kids to a public gym, which caused issues with regards to privacy, Maynard said. Now kids can work out and exercise without having to worry about privacy.
It also means Ozone won't have to pay gym membership fees and worry about transporting the kids.
"Again, it's something other grants wouldn't have covered and we like the idea that it could impact hundreds of kids a year while allowing Ozone to save money," Maynard said. "They're going to have private physical trainers to teach exercise classes, and the money they save can be put into other programs."
A2Awesome is already receiving 20 applications a month and finding more interest from people who want to contribute. Maynard said the group doesn't want to grow too large, but there's preliminary discussion about forming separate groups that would focus on areas like education or solely Ypsilanti.
He said there is a national Awesome Foundation conference in several months, and he's hoping a Michigan conference can be organized.
Among the A2Awesome group is Lisa Dengiz, a co-founder of multiple local nonprofits, including the Neutral Zone; Linh Song, who is involved with software startups and nonprofits, including starting Mam Non; Zingerman's co-founder Paul Saginaw; Domestic Arts Custom Cakes founder Tanya Luz; Treetown Toys and Dragonfly Depot founder Hans Masing; Jeff Meyers, managing editor of Concentrate Media, managing editor of Metromode and a Metro Times film critic; Heather MacKenzie, a self-described "enthusiast for good ideas"; Dogma CatmanToo founder Alice Liberson; mediator and former civil rights lawyer Dick Soble; Monique Deschaine, founder of Al Dente pasta company; Omari Rush, education manager for the University Musical Society and Larry Gant.