Posted on
Tue, Nov 1, 2011 : 5:57 a.m.
New Mott Hospital, pediatric cancer unit boast tight ties to Michigan football legends
By Nathan Bomey
The Big House comes to the little ones.
When the University of Michigan Health System's new C.S. Mott Children's Hospital and Von Voigtlander Women's Hospital opens Dec. 4, it will become obvious to patients and families that the hospital has a special connection to the Michigan football team.
One of the areas where football and the hospital intersect is in the new seventh-floor pediatric cancer unit.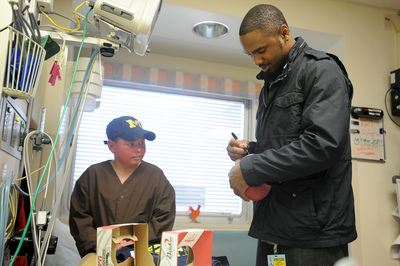 Angela J. Cesere | AnnArbor.com
(The entire facility — a 5-year, $754 million construction project — will be shown off to reporters today from 10 a.m. to noon. Visit AnnArbor.com for coverage. UPDATE: A look inside the University of Michigan's new Mott Children's and Women's Hospital for the first time)
Parts of the cancer treatment floor — named after former Michigan football coach Lloyd Carr and supported by donations from Michigan football legends like Heisman Trophy winner Charles Woodson — boast a football theme.
It's a reflection of the role football players have played in the Mott Hospital fundraising effort — and the special emotional boost patients get from athletics.
In the special, football-themed eighth-floor, "playroom activities make the kids feel like they're on a football field," said Val Castle, chair of Mott's Department of Pediatrics and Communicable Diseases.
With all the technological upgrades, aesthetic improvements and logistical components associated with the 1.1 million-square-foot hospital, doctors say that it's the intangible things often make a big difference in a patient's recovery.
For young patients, pretending you're scoring a touchdown at Michigan Stadium can offer an emotional — and physical — lift.
"As much as the high-tech stuff that we do in Mott, we've always been incredibly focused on the patient experience, family-centered care and having diversions and activities for children," Castle said. "It's incredibly important to their healing and experience in the hospital."
She added: "We try very, very hard to have our treatments give hope, and a big part of that is how you heal the inner spirit of the child."
That inner spirit is uniquely connected to the spirit of the Wolverines.
After receiving a $3 million gift from Michigan athletics donor and Alro Steel Corp. President Al Glick, the Health System named the cancer unit after Carr.
The Coach Carr Pediatric Cancer Unit highlights the tight connection between longtime Mott Hospital proponent Carr, his former players and the hospital fundraising effort.
Overall, the Health System raised about $75 million in private dollars for the new hospital — much of that due to efforts by athletes, coaches and athletic department executives.
Former players Woodson, Brian Griese and Steve Hutchinson — members of Carr's 1997 national championship team — lead an annual event that's raised more than $7.1 million for Mott since its inception.
Woodson, who personally donated $2 million for research at the new hospital, has served as a fundraising ambassador for Mott.
The hospital's lobby is named after him, and iPhone and iPad owners can download a three-dimensional application allowing them to view a digital version of Woodson next to an actual jersey mounted to the lobby wall.
Woodson, now a star cornerback for the NFL's Green Bay Packers, has shown a special interest in the hospital's activities since he played here.
"Whenever he's not playing and practicing with the Packers, Charles is here," Castle said. "He goes across the country talking about our work and our science and our patients and experience here. His main focus has been to help us with our research mission."
In 2009, Woodson said his commitment to the Mott fundraising effort was strengthened when he had his own child.
"For parents who go to the hospital and get news that is devastating to their child's life, at some point, you want them to go in and say, 'Well, we found a cure for that,' " Woodson told AnnArbor.com. "What they do here at Mott is special, and they've been doing it for a long time, and I want to be part of that future."
Contact AnnArbor.com's Nathan Bomey at (734) 623-2587 or nathanbomey@annarbor.com. You can also follow him on Twitter or subscribe to AnnArbor.com's newsletters.