Posted on
Thu, May 3, 2012 : 5:58 a.m.
New owner of ex-Fifth Quarter: 'Absolutely no plans for another nightclub'
By Paula Gardner
The vacant building at 210 S. Fifth Ave. in Ann Arbor keeps bringing out the creativity in its owners.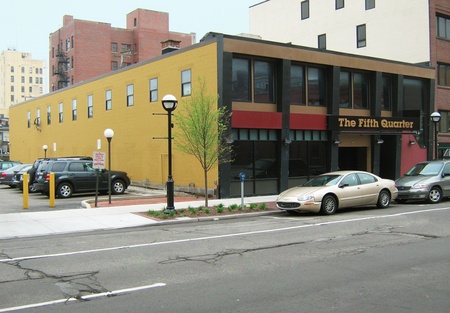 From the Oxford Companies
For years, Ann Arbor residents attended movie screenings when the Ann Arbor 1&2 occupied it, just before downtown investor Ed Shaffran saw its potential as office space in 1999.
Two years later, Jacques Habra thought it would be a perfect fit for his Web Elite firm — and a ground-floor hookah bar. By 2006, new owners envisioned the space as a nightclub, eventually operating the Fifth Quarter there until 2011.
The economy stalled Jeff Starman's effort to sell it last year for $1.8 million, and the lender took it back.
But now, a month after a bank re-listed it at a lower price of $1.4 million, there's another owner ready to step into the space and create something new.
What that will become, said Jeff Hauptman, president of the Oxford Companies, is not determined.
However, he added, one option won't be considered: "We have absolutely no plans for another nightclub in that location.
"We have no plans to do that to our neighborhood."
Hauptman led the building's most recent transition on April 30 when his Oxford Companies purchased it for an undisclosed price. The building becomes the fourth transaction funded by the Ann Arbor Opportunity Fund, an $8 million investment fund that Hauptman started in 2011 to pursue distressed local commercial real estate.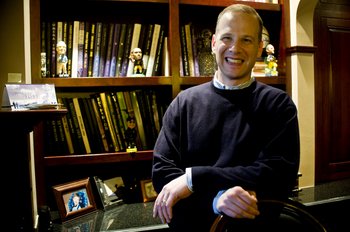 AnnArbor.com files
With the deal, the Oxford-managed portfolio grows to more than 1 million square feet.
The new property takes prominence in the portfolio because of its adjacency to East Liberty Plaza, another Oxford property. That building — home to Afternoon Delight among others — and its parking lot sit just to the south of 210 S. Fifth.
Combined, the properties "form one of the largest land parcels in the area," according to an Oxford news release.
That gives the property long-term potential, but it's the short-term that Hauptman is focusing on right now.
The 12,000-square-foot building isn't in top condition, though some demolition work had been started by the most recent owner, Hauptman said.
"Right now we're just in the early stages of cleaning and demolishing old partitions in what used to be the bar," Hauptman said.
He's expecting to spend about $700,000 on interior and exterior upgrades as he and his staff determine what will happen next to the building.
"This (building) is important to us on a number of levels," he said. "We're invested in this neighborhood, and we want to do something that respects all of the surrounding landlords and tenants.
"We have no interest in doing anything that disrupts the area."
It's an area that's consumed a fair amount of Hauptman's attention over time. He recalls buying East LIberty Plaza with the Oxford Equity Fund in 2005, seven years after he identified it as a prime downtown property and approached the owners.
With the 210 S. Fifth Ave. building, he's also realizing a long-term goal.
As the building changed hands over the years, it maintained its appeal for Hauptman, he said.
"I've been following this building since Web Elite," he said.
The reason?
"Location," he said. "Location and future potential."