Posted on
Fri, May 14, 2010 : 5:59 a.m.
New Red Robin prepares to open May 17 on South State in Ann Arbor
By Janet Miller
Janet Miller | For AnnArbor.com
When the Ann Arbor area's second Red Robin restaurant opens across from Briarwood Mall May 17, it will be unique among the national gourmet burger chain's more than 400 locations.
It will break with corporate design to include some local décor. And it will expand its happy hour from just the bar to the entire 222-seat restaurant, said General Manager Michael Lexcen.
Ann Arbor's newest casual dining restaurant occupies the 7,000-square-foot former Bennigan's on Briarwood Circle, which closed in January after 28 years. 
Red Robin, which had been looking for an Ann Arbor location for awhile, jumped at the chance to lease the building, Lexcen said.
It's an ideal location, close to the mall, businesses, hotels and the University of Michigan. 
"Quite frankly, there isn't another full-service casual dining restaurant like us close by," he said. With a menu that ranges from 22 burgers to soups, salads and wraps, "we pretty much cater to everyone," Lexcen said.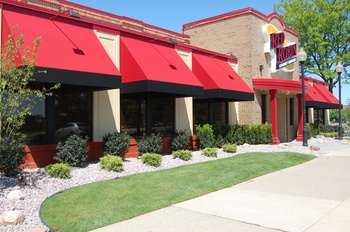 Janet Miller | For AnnArbor.com
The Red Robin has attracted a fair amount of interest, even before opening day. There were 1,300 applications for the 130 jobs, Lexcen said, and he expects another 100 applications a day once they open. 
While they listed the jobs on Craigslist, they didn't advertise, he said. 
Most of the hires have been high school and college students, and additional staff will be added if customer traffic warrants, Lexcen said. The new waitstaff spent this week learning the difference between a California chicken burger and a honey mustard chicken burger, and getting ready for a four-day sneak preview for invited guests that will serve as training before opening day.
While he said there were no targets for daily receipts for the new Red Robin, Lexcen, who has worked for Red Robin for 17 years, said some locations have taken in $100,000 in their opening week. Lexcen said he expects a line on opening day. The average Red Robin tab is $10 a person, he said.
Janet Miller | For AnnArbor.com
Shortly after Bennigan's moved out, the build-out began, Lexcen said, including a new kitchen, gutting the bathrooms, new flooring, paint, remodeling and decor. 
But they kept the U-shape bar and smaller spaces off the open main dining room left by Bennigan's. The floor plan creates more intimate spaces than most Red Robins, Lexcen said, which are usually wide open. 
Meanwhile, te weekday happy hour will expand to the entire restaurant.
"I've never seen that in a Red Robin in my 17 years," Lexcen said. 
While the Ann Arbor Red Robin has the trademark potpourri of art covering almost every inch of wall space (with a mixed collection of art that varies from a Pirates of Caribbean movie poster to a painting of the Founding Fathers), it also has a U-M twist. One wall of art is dedicated to the maize and blue.
The Ann Arbor Red Robin is owned by the Ansara franchise group, which owns 19 other Red Robins in Michigan, including the one on Carpenter Road in Pittsfield Township along with two in Toledo. Red Robin Gourmet Burgers, Inc., is a publicly traded company with headquarters in Greenwood Village, Colo.
Red Robin will donate 50 cents for every burger sold during opening week to Ann Arbor Fire Department's Bikes for Tykes program.
Janet Miller is an Ann Arbor-based freelance writer.