Posted on
Tue, Nov 16, 2010 : 6 a.m.
New sporting goods store Advantage Sports will open in ex-Big George's space on W. Stadium
By Laura Blodgett
A new sporting goods store will open in the former Big George's space located at 2019 W. Stadium in Ann Arbor.
Called Advantage Sports, the new business will sell higher end sporting goods, equipment and apparel for athletes in the Ann Arbor area.

"My brother and I have kids who play travel sports, and we were talking about how we have to go all the way out to Brighton or Livonia to get gear for them," explains Scott Schmunk, a real estate attorney who is opening the store with his brother Jamie Schmunk and friend Mike Charles, who previously had a business repping sporting goods to local teams.
They found the 13,000-square-foot store to lease and are pushing to open by the first of December, depending on construction.
In addition to a retail section, the business is renovating a space where customers can try out merchandise and coaches and vendors can hold clinics and demonstrations.
This 6,500-square-foot space will include batting cages, a synthetic ice surface and a turfed area "where people can go out with lacrosse stick and fire off a couple balls or try out a pair of soccer shoes," says Schmunk.
Carrie Keil, a skating instructor for USA Hockey, will be subletting a portion of the space and installing a treadmill to conduct personal hockey training instruction.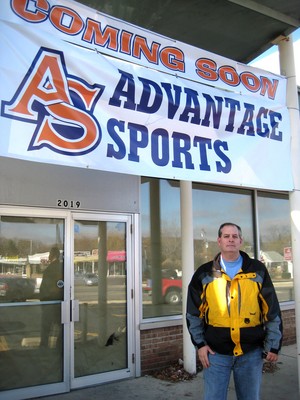 Laura Blodgett | for AnnArbor.com
The store will specialize in team sports, including baseball, softball, soccer, football, lacrosse and, of course, hockey. They will carry top-of-the-line equipment from brands including Wilson, DeMarini, Mizuno and Adidas.
"If high schools have the sport, we'll do it," says Schmunk. The group plans to start talking to schools and team organizations in the area about handling their team apparel and merchandise orders.
"One of the things my brother and I really wanted was something like the old Stein and Goetz on Main Street that we grew up with. That's where everyone went for all their sporting gear."
Schmunk says there's nothing like that in Ann Arbor now, only the big box stores which carry everything including fishing and camping equipment. Schmunk says they want to be more geared toward the people who live in Ann Arbor.
"We want to make it local and be community based. We want to get involved and partner with the schools and local organizations."
Schmunk plans to work in the store full time as well as hire a few part time local kids. "If things go well, we hope to add more people full time."
Laura Blodgett is a freelance writer and a frequent contributor to AnnArbor.com.