Posted on
Fri, Dec 28, 2012 : 5:59 a.m.
New student high-rise construction ahead of schedule in downtown Ann Arbor
By Ben Freed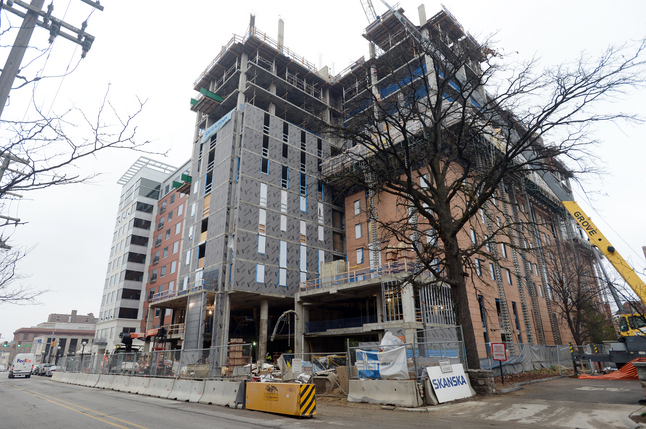 Melanie Maxwell | AnnArbor.com
Construction at new student high-rise
The Varsity
is progressing ahead of schedule, regional sales specialist
Sarah Tatum
said.
The structure, in downtown Ann arbor next door to fellow student apartment building Sterling 411 Lofts on East Washington Street, is expected to be completed by the end of June.
Construction on the 415-bed complex began in February 2012.
Tatum said the company's goal was to be finished with the rooms and amenities at least a month and a half before students move in for the fall 2013 semester.
"If it wasn't done on time, we have a concession built into our leases," she said. "That concession goes up every month."
The concession is a rent refund that would be returned to students if any of the apartment complex's promised amenities are not finished by the agreed upon move-in date.
The Michigan Daily reported that students living in the new Landmark on South University Street have expressed frustration over continuing construction on their building through the middle of the semester.
While winter weather can cause trouble for construction companies in Michigan, Tatum said the new building's roof will be poured and put into place by the end of January at the latest.
"Rather than just building the interior and going back we've been putting in the walls and windows all along on each story," she said.
"Weather can always be a concern, but we've made it through this far so once we get the roof on there will be no stopping us."
As they compete to one-up each other with new and better amenities, student high-rises could struggle to stand out among similar competition. Tatum said the Varsity's calling card will be attention to detail.
"From the lobby all the way up through the various amenities and apartments we are going to have high-end finishing, that's something that's very important to us," she said.
"There will be big screen TVs in every apartment as well as monthly resident events and a golf simulator."
The Varsity launched an early marketing campaign when it released a "Varsity Ann Arbor Style" video in October, a parody of the hit "Gangnam Style." Tatum said that other marketing efforts will involve passing out promotional items to students on campus, Facebook and social media outreach, and sponsoring events at local bars.
"We hope to be fully leased by the end of the spring semester," she said.
Prices at The Varsity range from $999 per bed in a four-bedroom, two-bathroom apartment to $1,644 for a one bedroom.
Pricing for the 2013-14 school year at the Landmark is being advertised at $989 to $1,839. Zaragon West, the other high-rise that opened at the beginning of the 2012 school year, lists prices from $1,100 to $1,850.
Ben Freed covers business for AnnArbor.com. You can sign up here to receive Business Review updates every week. Reach out to Ben at 734-623-2528 or email him at benfreed@annarbor.com. Follow him on twitter @BFreedinA2