Posted on
Mon, Feb 27, 2012 : 5:58 a.m.
New tool, equipment and party rental business opens in Dexter
By Laura Blodgett
A new tool, equipment and party rental business is opening in Dexter on March 3.
The business, called Dexter Rent-All, is owned by Dexter residents Stephanie and Doug Schoch. When space became available in the building that Stephanie's parents own at 8080 Grand Street across from Forest Lawn cemetery, which also houses Schwalbach's Auto, the couple decided they wanted to open a new business there.
"My husband and I both grew up with small family businesses and so every day we would come home from work with ideas for that space," said Stephanie, who works in the University of Michigan benefits office.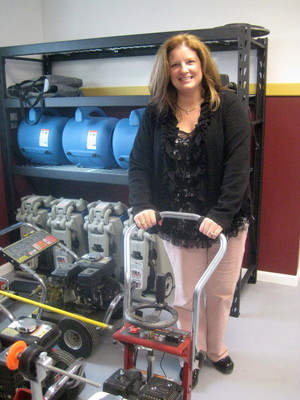 Laura Blodgett | For AnnArbor.com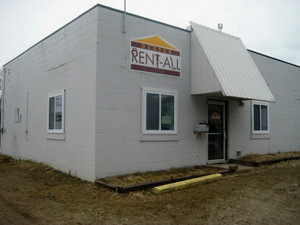 Laura Blodgett | For AnnArbor.com
Stephanie grew up in the construction business — her father, Jim Dunlavy, used to build houses. Stephanie and Doug have also built three houses since they've been married.
"We've done big projects together before, and we are really good at working together," she said.
The 3,000-square-foot space will carry party supplies such as tents, tables and chairs, dunk tanks and popcorn machines. Construction tools and equipment will include concrete saws, floor nailers, sanders, carpet cleaners, carpet blowers, scaffolding, generators and pumps.
They will also have lawn and garden equipment like rototillers, edgers, log splitters and items like portable heaters. The Schochs will start off slow — for example, with smaller tents from 20-by-20 to 20-by-60 that work for graduations and weddings —and adjust inventory as the business grows.
The owners are anticipating customers will be a mix of contractors and do-it-yourselfers.
"Because of the economy, more people are doing things themselves," said Stephanie. "And small contract companies that don't have all the equipment themselves can rent what they need for a day or a week."
The owners will both continue working their day jobs while working in the store in the evenings and weekends.
Dexter resident Matt McCormack has been hired as the general manager, and the owners are looking to hire more part-time and seasonal help. Although there are a few other rental companies in the surrounding area, the Schochs are not concerned about competition.
"We feel that [the size of] Dexter alone was big enough to sustain the business," said Stephanie. "We're trying to make sure we have all new up-to-date equipment and everything is clean and fresh and usable."
With the busy season for the rental business running mainly from March to November, the Schochs want to find more business opportunities throughout the year. They landed on the idea of selling handmade Christmas wreaths they purchased from family and friends in northern Wisconsin.
"We did a pilot last year and sold them wholesale to groups like churches and schools to sell at their fundraisers," said Stephanie, who wants to expand on the concept this year. "The groups make money too."
Laura Blodgett is a freelance reporter for AnnArbor.com.