New York Pizza Depot in downtown Ann Arbor now serving up beer and wine
Posted on Sat, May 12, 2012 : 5:57 a.m.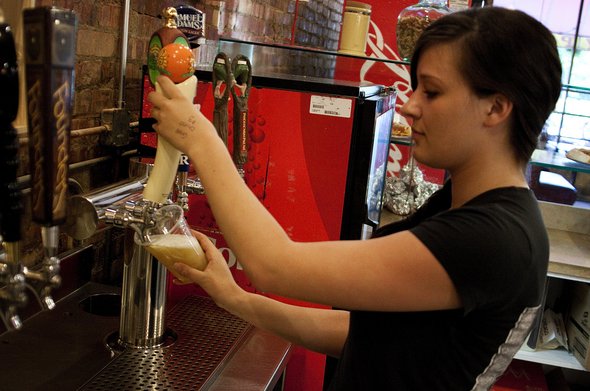 Jeffrey Smith | AnnArbor.com
After obtaining a liquor license in March, the New York Pizza Depot in downtown Ann Arbor recently began serving beer and wine.
Pizza and beer? The two are a good combination, according to co-owner Dominic Telemaco.
"We always thought it would be a good match," Telemaco said.
The restaurant, located at 605 E. William, received the license two weeks before St. Patrick's Day and began serving beer March 15, the Thursday before St. Patrick's Day. The pizzeria also started serving wine last week.
Telemaco said the process to obtain a license wasn't hard but it did take awhile. The pizzeria applied for one of the city's development district liquor licenses in 2010.
In 2008, development district liquor licenses created a more-restricted license available for $20,000, which made it easer for smaller businesses to obtain one. The licenses were created to spur growth within the city. Only businesses within the same boundaries used by the Downtown Development Authority were able to apply for the licenses.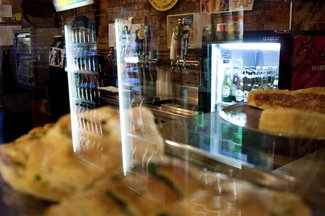 Jeffrey Smith | AnnArbor.com
The pizzeria is planning to make a few cosmetic changes, and Tedesco said they have already begun the process. In total, they will put about $70,000 toward remodeling and installations.
"We put a wine case on the wall," Telemaco said. "We used one of those wooden wine boxes. Also, in the last six months because we knew we were getting the license, we changed the booths and we will be redoing the bathrooms."
The restaurant previously seated about 70 people and after adding two extra rooms, it now can seat around 100 people. Telemaco said he also plans to install a bar area in the near future.
NYPD is selling an array of beers including several Michigan-made beers. They are serving three wines, one of which is from Italy.
For premium beer such as Budweiser, patrons can expect to pay $3.25 and for beer from the Arbor Brewing Company, customers pay $4.25. Wine costs $20 a bottle.
Telemaco said he isn't expecting to hire any additional employees but he did hire one individual to work on the weekends and equipped his employees with the proper tools.
"The guys took a training class on how to properly serve beer," he said.
Telemaco said while he hopes business increases from obtaining the license, it's too early to tell what type of effect it will have-- especially since a large number of students from University of Michigan went home for summer break recently.
"Right now because of the students that just left, business has went down a bit, and that always happens," he said. "We seem to be doing a little bit better but it's too early to what the license will do."
Selling alcohol won't change the way the business operates, he said.
"I think to students and all other people, we will still be a pizzeria that serves beer," Telemaco said. "We will still be a family establishment that has families coming in."