Posted on
Wed, Jan 4, 2012 : 9:15 a.m.
New York Times' Tom Friedman cites Ann Arbor as a 21st century economic leader
By Nathan Bomey
Communities with a strong base of intellectual talent and access to extremely high-speed Internet access will be the "job factories" of the 21st century, New York Times columnist Tom Friedman argued in a column.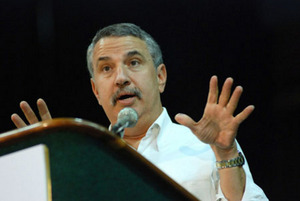 File photo | AnnArbor.com
And one of those communities, Friedman said, is
Ann Arbor
.
"The best of these ecosystems will be cities and towns that combine a university, an educated populace, a dynamic business community and the fastest broadband connections on earth," Friedman said. "These will be the job factories of the future."
The columnist, author of "The World Is Flat" and several other books on economic trends, cited Ann Arbor, Cambridge, Mass., Silicon Valley, Austin, Texas and Boulder, Colo. as places of economic vitality.
His column comes after state government officials reported Tuesday that Washtenaw County's unemployment rate had fallen to 5.2 percent in November, below the national rate of 8.6 percent and Michigan's rate of 9.8 percent.
Washtenaw — anchored by the University of Michigan, an entrepreneurial technology sector and a growing health care industry — has the lowest unemployment rate among Michigan's 83 counties.
"The critical questions for America today have to be how we deploy more ultra-high-speed networks and applications in university towns to invent more high-value-added services and manufactured goods and how we educate more workers to do these jobs — the only way we can maintain a middle class," Friedman wrote.
Read his full New York Times column here.
Contact AnnArbor.com's Nathan Bomey at (734) 623-2587 or nathanbomey@annarbor.com. You can also follow him on Twitter or subscribe to AnnArbor.com's newsletters.