Posted on
Fri, May 10, 2013 : 5:58 a.m.
Nicola's Books honored with a major award from the Women's National Book Association
By Ben Freed
It is quickly becoming a banner year for independent bookstores in Ann Arbor. The Women's National Book Association announced this week that Nicola's Books has been named the winner of the Pannell Award as the general bookstore of the year.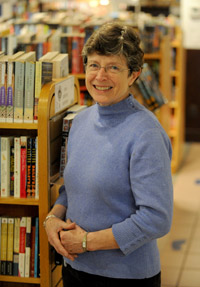 Angela Cesere | AnnArbor.com
The Pannell has been given out every year since 1983 and honors bookstores that excel in contributing to their communities. The award places special emphasis on looking for stores that connect young people with books.
The Bookbug
in Kalamazoo won the Children's Specialty Store category, giving Michigan a clean sweep of this year's awards.
"I think it says a lot for Michigan that there are bookstores alive and well out there in our communities," Nicola's Books event coordinator Lynn Riehl said.
"Last year actually The Book Beat in Oak Park won the general bookstore award, so Michigan has actually won three out of the four awards given out in the past two years."
According to a news release from the WNBA, this year's two winners were cited for their "over and above" commitment and "partnering skills to benefit children, families, and the community at large."
"The store owners and staff have recognized that in order for them to be profitable and thrive as an independent that they were going to have to actively engage their communities," judge Kelli Chipponeri said.
"...There was a symbiosis between the bookstore and the community that I found inspiring and a key to their success."
Riehl said that to her knowledge this is the first major award that Nicola's has won. The award, along with a $1,000 prize, will be presented to Riehl and buyer Bill Cusumano at the BookExpo America at the end of May.
"We're really very excited about the award," Riehl said.
"We're lucky to be in Ann Arbor where there are so many people interested in writing and reading so there are plenty of schools and organizations for us to partner with. It's really just a great giant network here."
The store was nominated by Emerson School librarian Linda Lakshminarayanan who said she saw the announcement for the award and could not think of a more deserving store.
"The store bends over backwards for me personally but also for the school and what I do as a school librarian," she said.
"… You can read a million book reviews but the bookstore knows what I have in my collection. They spend time with me and know what I buy and what kind of books do well with my kids. They really go above and beyond the call of duty to help."
Lakshminarayanan said the variety in the children's section stands out for her as an area where Nicola's excels as a local bookstore that thinks on a smaller scale.
"Big box stores normally just carry the children's books that they think will sell well nationally," she said.
"Nicola's will buy a few copies of some little books that you've never heard of but the buyer or the staff fell in love with. Then when you see those books you think 'Wow, what a magnificent find.' "
Nicola's has remained a constant on the independent book store scene in Ann Arbor as other booksellers have closed and opened downtown. The store has a number of initiatives that Riehl thinks may have helped the store separate itself and earn the award including its work with literacy organization 826 Michigan. The store also frequently brings authors to speak at local schools before hosting events with them at their store in the evenings.
"We try to get into every nook because that's what it means to be a part of the children's community and to be at the forefront of promoting the literacy of children in our community," she said.
"We feel that we're part of the group out there that is supporting all of that and introducing kids to the world of books."
One of Nicola's newest initiatives is a Saturday morning program that encourages children to read out loud to Ricky the golden retriever. Riehl said studies have show that kids who struggle to read out loud often feel more comfortable reading to animals rather than adults or their peers.
"We're always looking for ways we can continue to make reading interesting and fun for the kids," she said.
Ben Freed covers business for AnnArbor.com. You can sign up here to receive Business Review updates every week. Reach out to Ben at 734-623-2528 or email him at benfreed@annarbor.com. Follow him on twitter @BFreedinA2