McClatchy-Tribune:

Nicola's Books survives in Ann Arbor even as Borders works through bankruptcy

Posted on Wed, Mar 9, 2011 : 3:23 p.m.
Many in Ann Arbor value independent book seller Nicola's Books in Westgate Mall, but that doesn't mean owner Nicola Rooney has been immune from industry changes.
Still, her business stands as strikingly viable when compared to the freefall at Borders. A recent article by McClatchy-Tribune News Service talked to owner Rooney and one of her buyers, Bill Cusimano, about the national rebound of independent book retailers.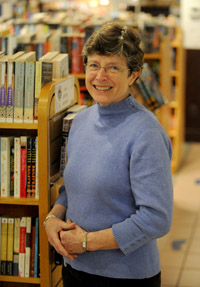 AnnArbor.com
While sales are improving at many of those stores, many also were touched by the recession. Rooney told me in
late 2009
that she'd had some slow sales months before things picked up by the holidays.
By Christmas 2010, she was benefitting from some hot-sellers and a push to urge early shopping - necessary, she said, because some reorders wouldn't be available.
I talked to her on the morning that Borders filed for bankruptcy. "It's a sad day that we're getting to this," she said.
As an independent book seller, Rooney competes against Borders. But as a retailer caught in a rapidly changing industry who is reliant on many of the same publishers poised to lose millions as Borders repositions itself, she's hurt, too.
The irony that she's headquartered in the same town as Borders wasn't lost on the national report about the survival of Nicola's Books: See the McClatchy article here.