Posted on
Sun, Aug 12, 2012 : 5:59 a.m.
Ann Arbor hoop house company wants to grow more small farms in Washtenaw County
By Janet Miller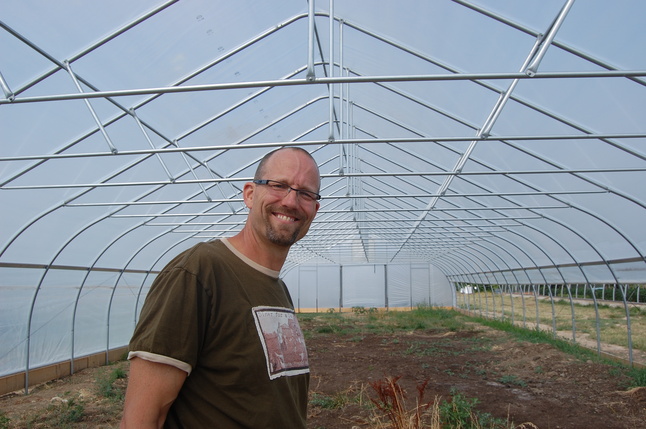 Janet Miller | For AnnArbor.com
Jeff McCabe wants to help change the feast-or-famine nature of farming in cold weather climates such as Michigan.
As founder of Ann Arbor-based Nifty Hoops, he wants to spread the harvest into winter, allowing small farmers to increase profits and offering a carrot to encourage small, often organic, local farms.
"It's about creating a viable food system," McCabe said.
For the past year, McCabe has manufactured and installed hoop houses under the Nifty Hoops name.
These passive solar greenhouses, which can range from 300 to 6,000 square feet, have been sold to farmers and organizations in Washtenaw County and beyond.
McCabe is now thinking of expanding the business using a franchise model into other cold climate markets such as Madison, Wisc., and Burlington, Vermont.
Nifty Hoops creates a new way to build hoop houses. Until now, kits could be ordered, leaving farmers to wrestle with assembly, McCabe said. There weren't instructions, especially for the end walls, and the tubing wasn't pre-cut.
"They give you a pile of steel and let you figure it out. You have to do your own engineering," McCabe said.
Assembly can take days, and there is one area one farmer who spent a month on the project, McCabe said.
Nifty Hoops includes materials and labor and, like a barn raising from an earlier era, they are constructed over the course of a single day. A farmer or volunteers can assist in the hoop house raising to reduce costs, but McCabe and his team direct the work.
While McCabe is a one-person company, he has a roster of about 20 available to work construction. About 12 workers are needed for any given hoop house raising.
Using his construction and engineering background, McCabe reduced materials costs, in part, by substituting polyethylene sheets in place of more expensive polycarbonate film that is stretched over the structure's steel skeleton to create walls.
The steel tubing is lazer cut and fits together like an Erector Set, and McCabe has managed to reduce labor time by a third from a year ago.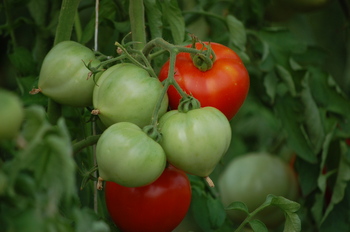 Janet Miller | For AnnArbor.com
And the design has been adapted for growing farm crops, while hoop house kits are meant for growing flowering plants, McCabe said. Nifty Hoops have a lower cross brace system which allows for easier trellising of tomatoes, cucumbers, egg plant and other vine crops.
After self-financing the $100,000 in start-up costs with the help of family - McCabe couldn't get a bank loan - McCabe started Nifty Hoops a year ago.
While he hopes Nifty Hoops will help Washtenaw County reach its goal of growing 10 percent of what its residents consume, he also wants it to make farming more profitable.
A farmer can grow $20,000 worth of food in a 30-foot-by-96-foot Nifty Hoop that occupies a fraction of an acre, McCabe said. That same farmer can only grow several thousand dollars worth of food on an acre of farmland during the regular growing season, he said.
While Nifty Hoops makes the job of farming easier, it also saves money, said Dan Bair, farm manager at The Farm, at St. Joseph Mercy Health System.
The Farm installed a Nifty Hoop, the latest of three hoop houses on land across from the hospital, which cost $12,600. An earlier hoop house bought as a kit and installed by volunteers cost $15,000.
Most hoop houses are not heated, and daylight is too short to foster growth in the coldest months. Still, hoop houses extend seasons - the short season for spinach, for example - into February, March and April.
In December and January, hoop houses act as sort of a refrigerator for hardy crops such as carrots, kale and collard greens planted in the fall. Still, these crops are harvested in the winter.
McCabe was involved in local food issues - the Friday breakfast salon SELMA Cafe is at his house and he sat on the Board of Directors of People's Food Coop - before he started Nifty Hoops. Proceeds from SELMA were being used to finance and build hoop houses.
There were six Nifty Hoops constructed last summer and 14 have been installed so far this season. McCabe hopes to end 2012 with a total of 25 new Nifty Hooss. He's looking at 50 in 2013. And McCabe may start to offer add-on options such as irrigation and trellising systems.
"America has done everything it can to decimate the family farm," McCabe said. "(This) production makes farming more viable."