No cash? No problem! Local businesses turning to mobile credit card processing
Posted on Sun, May 13, 2012 : 5:59 a.m.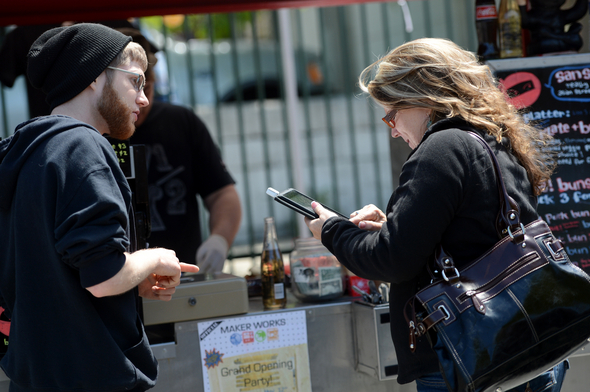 Melanie Maxwell I AnnArbor.com

When Comet Coffee owner Jim Saborio got rid of his traditional credit card processing machine last year at his downtown Ann Arbor shop, he had a goal in mind: Save hundreds of dollars on fees each month.

But instead of becoming a cash-only business — something Saborio didn't consider an option since credit cards account for half of the coffee shop's sales — he turned to a mobile payment application called Square.

The San Francisco-based company, which enables businesses to accept credit cards anywhere on a smartphone or iPad, was founded in 2009 by Twitter co-founder Jack Dorsey.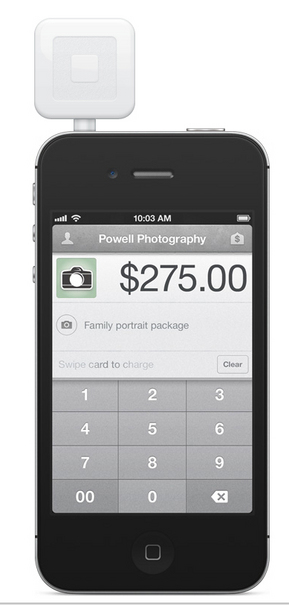 Photo courtesy of Square
Square's popularity has skyrocketed in the past three years, with the company now processing $5 billion in annual payments from its more than 1 million users. And competition in the mobile payment industry is heating up. From e-commerce business PayPal to the University of Michigan start-up Own Point of Sale, many companies have launched or are in the process of launching similar concepts.
In the Ann Arbor area alone, there are 1,000 Square users, ranging from street-side vendors to small businesses and artists, said company spokesperson Lindsay Wiese.
The concept is simple: A user creates a Square account after downloading the free application, and then receives a small, square card reader that plugs into the mobile device. The reader accepts all major credit cards and none of the customer's information is stored since the data is encrypted on the card reader. Square then takes a flat 2.75 percent processing fee for each transaction the merchant makes.
Paypal's concept, called PayPal Here, was announced in March and takes a 2.7 percent cut for each transaction. This past week, Point-of-sale company VeriFone announced its product, SAIL, in an attempt to cash in on the growing industry. SAIL has the same 2.7 percent fee, but is also offering the option of 1.95 percent rate for users who pay an additional $9.95 per month.
In comparison, the fee structure for a traditional credit card processor can be more complicated. A merchant pays for the hardware, a start-up fee, a cancellation fee, and then a per-transaction fee that varies depending on the credit card type.
"(Traditional processing) is just mind-numbing," Saborio said. "There are all these different transactions and rates for different cards."
Because traditional card processors have higher rates for certain credit cards and a per-swipe fee, Saborio estimated he is saving $400 a month by using Square — despite initially being charged a $735 cancellation fee by his former processing company.
"For a business like mine where you're doing a lot of transactions under four dollars, it really adds up quickly," he said. "I was paying upward of 5 percent of my total sales for processing."
For Jordan Ceresnie, co-owner of the Cheese Dream food cart in downtown Ann Arbor's Mark's Carts, without the ability to accept mobile payments, he'd turn away dozens of customers a day and lose hundreds of dollars in sales. Street vendors typically cannot use traditional credit card machines because they require a landline.
"For me, that's huge," he explained. "I'm a small business owner just starting out."
He said after Square removes the 2.75 percent fee, the company direct deposits sales into his bank account, which become available the next business day. The application also has built-in analytics that allow him to track his sales history.
"At the end of the day, I'll look and see how much I made and what time was the busiest for credit card sales. It's really great and really user-friendly."
Nick Wilkinson, the owner of Mark's Carts A2 Pizza Pi food cart, agreed: "If I don't take credit cards, I lose sales. The last thing you want to do is turn people away."
Wilkinson accepts mobile payments on an iPad, where he can swipe the customer's credit card and then hand them the tablet to sign. It provides an option to tip on the screen and receipts can be texted or emailed.
"I've found that with Square, more people using a credit card pay a tip than people who pay in cash," he said. "Also, less people are carrying cash these days."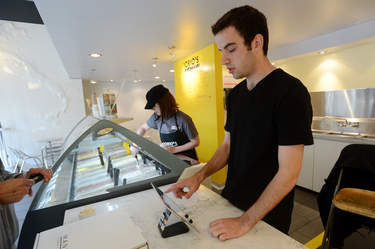 Melanie Maxwell | AnnArbor.com
Nick Lemmer, co-owner of Iorio's Gelateria in downtown Ann Arbor, said he turned to mobile payment processing to limit the overhead cost of having to buy traditional processing equipment.
The benefits, he said, are that it's easy to use and the application is constantly updated.
"They're always looking to improve things and they're very responsive," he said. "It's so nice because I can access our analytics online and see how the store is doing on my phone while I'm in class when I shouldn't be looking at it."
He also said it's become a "spectacle" with his customers who haven't witnessed mobile payment technology.
"People love it. Seeing us use the iPad for our payments; they get so into it," he said.