Posted on
Mon, Mar 14, 2011 : 5:55 a.m.
Wendy Chapman will open her first women's clothing boutique soon in Ann Arbor's Nickels Arcade
By Janet Miller
Wendy Chapman and Johnny Vaughn admit they are "fashion dorks." When the two friends meet, they pore over fashion books and talk about the latest styles.
So it seemed natural that Chapman and Vaughn would join forces to open a women's clothing boutique in downtown Ann Arbor's Nickels Arcade that offers classic style without the sticker shock. Their store, Wendy, is scheduled to open by mid- to late April. The store will be about 600 square feet.
"We will have classic clothing that's fresh, sexy and vital," Chapman said. The store will also offer skin and body care products along with accessories such as belts and handbags.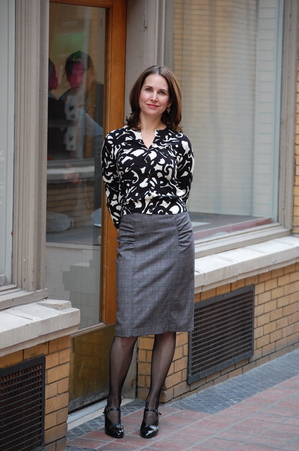 Janet Miller | For AnnArbor.com
"We're going to be a little jewel box of a department store," Chapman said.
But its price points won't be haute couture. "We won't have a Michael Kors skirt that costs $600 for a simple A-line cotton design," Chapman said. The team hopes to appeal to a broad age range of women, from 20 to 60 and beyond.
Wendy will cater to professional women, and will also offer cocktail dresses during the holidays as well as casual everyday styles. It will have a concierge service, where staff will bring outfits to the homes and offices of busy customers, and will offer personal shopping by appointment.
Wendy will feature 10 to 20 lines of women's fashions that are not offered in the area, Chapman said. The store doesn't aim to compete with Briarwood Mall or other downtown clothing stores such as Urban Outfitters or the handful of other small boutiques downtown, the partners said.
Janet Miller | For AnnArbor.com
The store's lines will be stylish, but short of trendy, Chapman said.
"We won't carry anything with wings coming off the bottom. Styles will be enduring. We will sell trench coats that you can buy when you're 25 and still want to wear when you're 40," Chapman said.
Lines include Zelda, Ravel and Leota. Some 90 percent of their lines will be made in the United States and anything outside of the U.S. will be ethically manufactured, Chapman said.
Prices will range from $50 for tank tops to $500 for coats, with most items running between $100 and $200.
Building began a few weeks ago at the store site: Old sky-blue linoleum that covered the floor is being painstakingly removed to show the original tile floor. Dressing rooms are being built.
"We'll have a semi-industrial look with (exposed) plumbing and pipes and reclaimed wood, but with femininity: There will be a flirty French Provencal settee," Chapman said. She and Vaughn are doing the interior design themselves.
The business partners are thinking big: They want to open a second retail store within a year and would someday like to design and manufacture their own line of women's wear.
Chapman, a local commercial real estate appraiser, said she's been interested in fashion for a long time. Vaughn has worked in retail — most recently for the Gap — for 20 years and is an artist.
There's a learning curve with a new business, the pair said. When they traveled to Chicago to attend a major buying show, they got their first look of what's inside the fashion industry.
"In my mind, it was going to be like 'The Devil Wears Prada,' Vaughn said, referring to the book (later a movie) that chronicles the peculiar and particular world of high-fashion magazines like Vogue. "We both dressed nicely. But when we got there, people were wearing sweat pants with purple skunk hair. They weren't wearing fashion. They were buying fashion."
Janet Miller is a freelance reporter for AnnArbor.com.