Posted on
Tue, Jun 1, 2010 : 6:02 a.m.
Ann Arbor bars report no loss of business one month after Michigan's smoking ban
By Dan Meisler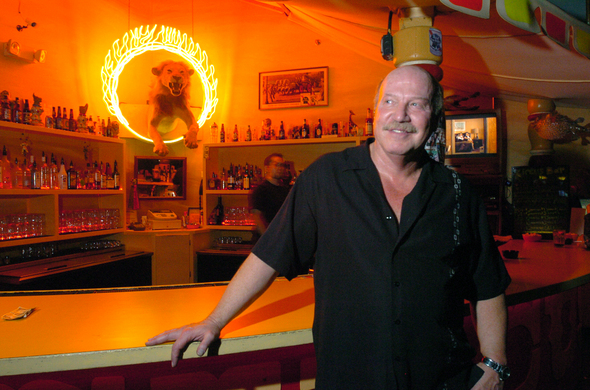 File photo | AnnArbor.com
One month after state law barred smoking in their establishments, tavern and restaurant owners around Ann Arbor are not reporting any dramatic downturn in their business.
And the reaction among patrons -- while still going through an adjustment period - ranged from joy (usually nonsmokers) to resignation (usually smokers).
"I love it," said Sara Gnagi of Brighton, a nonsmoker who was having a drink one recent night at Conor O'Neill's on Main Street. "I have a much easier time breathing."
Her friend Jennifer Hall, who said in the past she typically only smoked at bars, didn't mind the new restrictions.
"I'm still happy," she said. "If people have to go outside, that's fine."
They both said they're more likely to go out more often now that smoking isn't allowed in bars.
Nick Easton, owner of the complex of bars on First Street including the Millennium Club and Cavern Club, said he thinks there are others like Gnagi and Hall -- nonsmokers who are more apt to visit a smoke-free bar.
"I've heard that before the ban even went into effect," he said.
Easton said it's hard to gauge because the smoking ban coincided with students leaving town for the summer. But, he said, "I don't really think it's affected many of the people still in town."
Chris Pawlicki, who co-owns the Old Town Tavern with his brother, Steve, said dinner sales were up 20 percent since the ban went into effect May 1. Night sales, measured after the kitchen closes, were up more modestly.
Even longtime regulars who smoke "are cool with it," Pawlicki said.
"I step outside now and it smells like it used to smell inside," he said.
"I think we still see most of the people that we saw before, they spend almost as much time here, they just go outside to smoke. At some points, there's a lot of empty tables."
Easton said the throngs of smokers standing outside his clubs are actually a positive development.
"I think it looks good. It looks like there's a line to get in ... it looks like this place is happening, at least that's my opinion," he said.
Carmen Fernando, general manager at Ashley's, agreed that it's been tough to accurately gauge the impact of the ban with the exodus of students from town for the summer. But she added that it seems as though the change has been positive, overall.
"I think it's either had no impact or it may have benefited us a little bit with the people who are nonsmokers who are now coming in," she said. "Traditionally in the past, from a few people we have been considered a little bit of a smoky bar. In that way it may have helped us.
"The fact that, because you can't smoke in any bars or restaurants, we're not losing any customers to other bars."
John Shields and Krysta Sa, residents of Bowling Green, Ohio, a state that's had a smoking ban in restaurants for years, said that people here will adjust in time. They were smoking outside of the Blind Pig on First Street as they waited for Shields' band, King Recliner, to play.
"I think it's better," Shields said. "I didn't like it at first but people are used to it. It's not a big deal."
"I feel like a lot of people like it, even smokers," Sa added.
That acceptance hasn't necessarily taken hold in Ann Arbor yet, according to David Root, general manager at the the Brown Jug on South University.
"I think any smoker isn't happy about it, but there's not really anything they can do about it," he said. "They can't get mad at us, because we have to enforce the law."
"I think it kind of infringes on personal rights. If you're a private business owner you should have a choice. I don't think the government should be able to tell you. But… once the law passed I didn't really care that much either, because everybody had to go nonsmoking," he added.
Sean Stevens, a smoker and a bartender, said the people of Michigan should have been able to vote on the issue. But he said overall the law is probably a good thing.
"I think it's a step in a good direction, but I don't like the way it was done," he said.
He said the immediate drawbacks at some places have been people smoking in the bathroom and making a mess, and the crowds of smokers outside of bars. He said walking into one downtown bar he had to go through "a mountain of cigarette butts. It looked terrible."
For Bill Fraser, owner of Fraser's Pub on Packard Street, that negative is outweighed by the positives.
"For us it's been a blessing," he said.
The watering hole is hosting more families, he said, and overall sales are up 20 percent.
"We're getting more people that didn't like smoking, obviously. And nights have improved a lot. So it's been a real run for us."
Fraser said staff spent several days after the ban took effect cleaning the restaurant's walls, ceilings, picture frames and floors. "The place smells great. No more smoke.
"I've been waiting for this for years and years. It's a blessing in disguise, it really is." Fraser's has set up two tables for smokers near the parking lot, but the bar isn't sure what accommodations it will make come wintertime.
"We don't want anybody hanging out by the door," Fraser said.
Some bar owners or managers said they packed away their keepsake ashtrays or threw them out.
"On the last night of smoking, most of them were either stolen or given away," reports Old Town's Pawlicki. "We have like two or three of 'em. We didn't have a ton of 'em anyway. I actually had to go out a buy a couple, like maybe half a dozen at the dollar store just to get us through the last night because people were stealing them."
The Brown Jug held onto its inventory.
"Ashtrays are used in one of our shots, so we kept them for our shots," Root said.
Freelance reporters Dan Meisler and Sven Gustafson reported this story for AnnArbor.com's Business Review.