No 'results' necessary: ForeSee plans to add up to 40 jobs in Ann Arbor by end of 2012
Posted on Sun, Sep 4, 2011 : 5:57 a.m.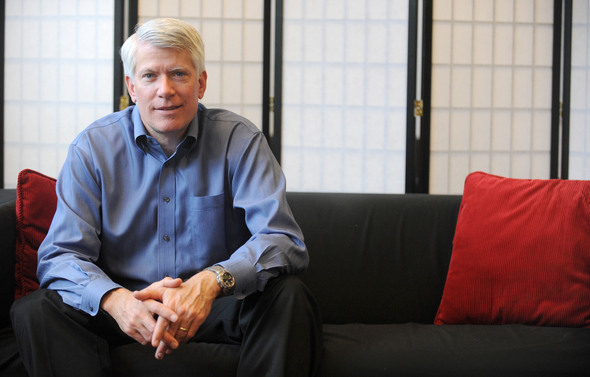 Angela J. Cesere | AnnArbor.com

If you've ever filled out one of the 1.4 million monthly online surveys conducted by ForeSee Results, you're supporting one of the growth hotspots of the Ann Arbor economy.

But the company, which is celebrating its 10th anniversary this week by changing its name to ForeSee, didn't start out as a guaranteed success story.

When ForeSee Results was incorporated in Ann Arbor four days before Sept. 11, 2001, the customer satisfaction firm had a vision of tweaking an index created by the University of Michigan and using it to analyze customer data to help websites make improvements.

Ten years later, ForeSee has expanded its services to include offline customer satisfaction research and analysis in an effort to diversify its client base and leverage its brand to boost revenue.

So far it's working. The company, which has recorded revenue increases for every single quarter since it launched, says its sales have risen by at least 25 percent every year. And the company expects to add up to 40 new jobs by the end of 2012.

ForeSee's major clients include one-third of the biggest retailers, one-third of the Fortune 100 companies, and other major clients like the NFL, the U.S. State Department and NASA.

Visitors to the websites of the company's clients are occasionally asked to fill out a survey about their experience — surveys that bear ForeSee's logo, making the company a well-known brand among many web users.

Now, the company is pouring resources into a variety of new services: ForeSee is helping clients assess the effectiveness of their call-center operations, in-store experience, mobile websites and social media offerings.

ForeSee CEO Larry Freed said the company must offer a broad portfolio of services — not just website analysis — because customers interact with brands in a variety of ways.

Customers can interact with a brand's social media accounts, website, call center, physical store, employees and products. That makes customer research a lot more complicated than it was 20 years ago.

"You go back 20 years and your local store was all about convenience, it was all about location," Freed said. "The Internet opened that up back 15 years ago. More recently, mobile has taken that to another level. In doing so, consumers have become very multi-channel or cross-channel."

By asking customers questions about what's influencing their purchasing decisions and browsing habits, ForeSee can help its clients decide what's working and what's not.

Freed, who has become a national speaker on the importance of improving customer satisfaction to drive sales, said the customer's experience is more important today than it was when ForeSee got its start.
Angela J. Cesere | AnnArbor.com
Customers can now walk through the aisle of a store, compare prices on their smartphones, read reviews, research products and post comments to social media websites, immediately influencing a brand's reputation.
"The consumer continues to get more and more powerful," Freed said.
As its services expand, ForeSee has continued to hire workers at its Ann Arbor headquarters.
The company, which hired its 200th employee earlier this year, now has about 235 employees — including about 180 at its headquarters on Green Road in Ann Arbor.
The company expects to add another eight to 10 employees this year and about 30 next year, Freed said.
"We see nothing in front of us that tells us" the growth will stop, Freed said. "We just need to keep executing well."
ForeSee was co-founded in 2001 by Compuware and CFI Group, using technology originally licensed by U-M. In 2007, venture capitalists invested $20 million in the company, buying out Compuware's equity stake.
As a venture-backed company, ForeSee may eventually be pressured to seek a sale or an initial public offering. But Freed said the company is in no hurry to do either.
"Our philosophy continues to be to grow your business, provide value to your customers and have a great economic model," he said.
The U.S. economy — which is a better barometer of the health of ForeSee's client base than the Michigan economy — is sputtering. But ForeSee is used to navigating tough economies.
In the aftermath of 9/11, which rocked the economy, ForeSee still managed to flourish as a young company. The company quickly added a major automotive supplier as a client — and then The Weather Channel signed on, and the company started to grow.
"We did a very good job of listening to those early clients," said Eric Head, who joined ForeSee in October 2001 as its fifth employee and now leads the company's call center push as senior director of business development.
Early employees said ForeSee nurtured a culture that mixed the ambition of a typical tech startup with the professionalism of a major company — a formula that eventually appealed to early corporate clients like Best Buy and Target.
Chris Dooley, a regional director who joined ForeSee in October 2002, said a key reason he joined the company was to work with Freed. He said that Freed, who previously worked as a vice president of Compuware, has cultivated an "open culture."
"There's a healthy respect for debate," he said. "Everybody's opinion matters. (Freed's) may win, and you may agree to disagree. But he wants to hear it."
ForeSee Vice President Cia McCaffrey, one of the company's founding executives, said ForeSee resisted the urge to expand too quickly in the early days — a fate that doomed many Internet companies.
"We wanted to be really careful," said McCaffrey, who leads the company's recruiting efforts.
A responsible sense of caution still guides the company. Freed said it's important for successful companies to maintain their focus on their core services. For ForeSee, that means customer satisfaction.
"You want to be great at what you do," Freed said. "You see so many people chasing that pot of gold and forgetting what got you there."
Contact AnnArbor.com's Nathan Bomey at (734) 623-2587 or nathanbomey@annarbor.com. You can also follow him on Twitter or subscribe to AnnArbor.com's newsletters.