Posted on
Mon, Oct 18, 2010 : 6:31 a.m.
Nonpareil Studio hopes to dress up Ann Arbor with custom shirts, classes and tailoring
By Janet Miller
Michelle Moenssen wants to dress up Ann Arbor.
While the city is known to dress casually, there are growing signs that it's ready for a little polish, Moenssen said. A number of clothing boutiques have opened their doors in recent times.
Now, there's Nonpareil Studio, an apparel and textile design studio where customers can order custom-tailored shirts, learn to design patterns and make fine garments of their own or have a pair of slacks hemmed.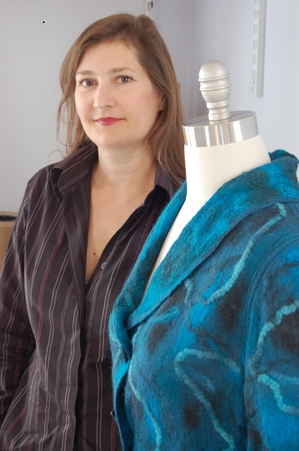 Janet Miller | for AnnArbor.com
Moerssen, a fiber artist who has apprenticed with European-trained tailors, opened Nonpareil (which, in addition to being the name of a chocolate candy, means "without peer") in downtown Ann Arbor late last week, offering custom-made shirts for men and women, alterations and classes that she hopes will become the backbone of her new business. Nonpareil is located in four rooms of the first floor of one of the wood frame houses on South Ashley Street.
It's not Moenssen's first business venture. She ran the highly rated Metropolitan Tailoring in Birmingham for 10 years, until she sold it in 2006 to return to school to work on a master's degree.
Most recently, she has made wearable art such as felted wool coats to silk chiffon jackets and sold them at high-end art fairs. But her timing was off.
"It was 2008 and the economy was tanking. The art fairs were fun and I learned a lot, but it was not a good business model for making a living," Moenssen said.
For the past year, she has been making made-to-measure shirts as a home-based business. While men can buy shirts with variable neck sizes and arm lengths, woman can't, Moenssen said.
"If you're a size four, you buy the same shirt, whether you are five-feet or six-feet tall," she said. Her custom shirt business received national attention this month when it was mentioned in "Real Simple" magazine.
It was just two months ago that Moenssen said she came upon a business plan that would work better in a soft economy: She will make custom-made shirts, which start at $165, for customers looking for a perfect fit or a hard-to-find fabric. (Shirts from designers such as Theory or DKNY can run $195 or more, she said). She also does alterations.
But she'll also offer classes for cost-conscious customers. "In this economy, people want to know how to do things for themselves," Moenssen said.
"People are tired of inexpensive and disposable clothes made in China. They want something good. And different. Ann Arbor is known as a creative community. I thought these kind of classes would be well-received."
She is offering classes in basic and advanced garment construction, bead weaving, screen-printing, knitting, fabric dying, pattern drafting and more. She will be offering classes for adults and children. Moenssen will teach many of the classes, but she's also hired a part-time staff to handle some of the teaching.
In the end, Moenssen said she wants to help Ann Arbor look stylish, she said. "I hope to have a little influence on how Ann Arbor dresses."
Janet Miller is a freelance writer and a frequent contributor to AnnArbor.com.