Posted on
Sat, Apr 14, 2012 : 5:57 a.m.
Noogieland play area offers support for kids dealing with cancer
By Laura Blodgett
Children are often hit hard when cancer enters a family.
To lend support, the Cancer Support Community of Greater Ann Arbor recently opened Noogieland, a play area and group room geared for children touched by cancer—whether that might be kids with cancer or those with a parent, sibling or other relative with the disease.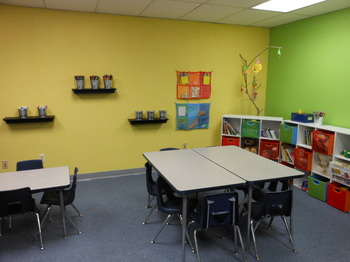 Courtesy photo
"Early on we recognized the need for services for families and children," said
Bonnie Dockham
, program director at Cancer Support Community of Greater Ann Arbor, which opened in 2007 at 2010 Hogback Road in Ann Arbor.
"As an oncology social worker, I was having adult family members and patients concerned about getting support services for their children, and I knew there was nothing in the area that existed to help families as a unit."
A year ago the organization held its first support group to help families and children deal with practical and emotional issues stemming from cancer in their homes.
Families found the experience to be very meaningful and the organization decided to dedicate an area specifically for children and family.
The 1,600-square-foot addition is divided into three sections. A play room allows therapeutic pretend play to take place using a puppet and kitchen area. Real medical equipment is used to teach children about cancer therapies.
An activity nook with tables and chairs allows kids to write, do arts and crafts and play games — useful as "ice breakers" to get kids connected before group sessions begin, Dockham said.
A larger exercise space is used for the weekly Kids Kicking Cancer martial arts program, and it's also used to house a TV for Wii and movie night during the teen programs.
The expansion was made possible through a grant by Ford Motor Company Fund. This was followed by a partnership with ForeSee Results in which staff readied the space by cleaning and painting it and held a toy drive to collect needed items to fill it.
Feedback from families has been very positive.
"People love it," said Barb Hiltz, executive director of Cancer Support Community. "My favorite reaction comes from the kids. The first night we had Kids Kicking Cancer in there you would watch the kids run in and gasp and their jaws just dropped."
Not only does the space create a higher level of comfort for kids, but Hiltz says it gives the center more opportunity by having a whole area dedicated to children.
"In terms of kids and families, I think having this space is really going to be a jumping off place. We now can go out when we talk to families about how this space was designed with them in mind. That area of our program will see some pretty significant growth."
CSC also holds a monthly family program night in which families eat dinner with other families before breaking out into age appropriate groups. Themes are developed based on what is going on with the families.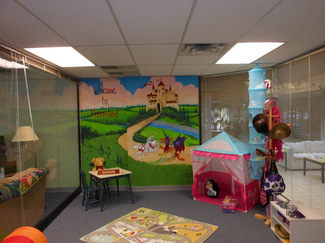 Courtesy photo
"Parents are saying they never knew their kids felt a certain way or never talked about certain experiences before," said Dockham. "Families are really healing together."
Other programs include a kid's cooking class, yoga, picnics and family potlucks.
The center primarily gets the word out about their services through its close relationships with local health care providers including the cancer centers at both St. Joseph Mercy and the University of Michigan Health System. It's entirely funded by support from the community, and all programs are completely free of charge.
"Cancer is a financially devastating disease," said Hiltz. "It is important to us that people get the support regardless of money or type of insurance."
As the local affiliate of CSC—which is the result of a marriage between The Wellness Community and Gilda's Club—the center offers professionally led support groups, educational workshops, nutrition and exercise programs and stress reduction classes to people touched by cancer.
The center employs two full-time and five part-time staff members, as well as a mix of contract social workers, dieticians, yoga and other instructors, and close to 200 volunteers.
"The community really has rallied to see this place come alive," said Dockham.