Posted on
Sun, Dec 9, 2012 : 11:09 a.m.
Norton's opens west side flower shop location in time for holidays
By Angela Smith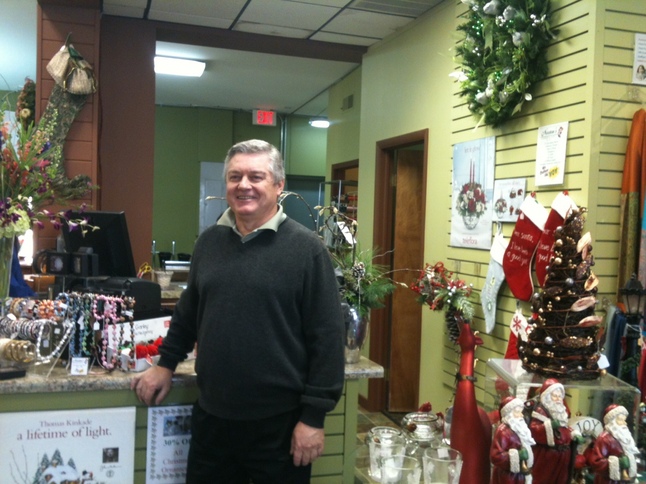 Angela Smith for AnnArbor.com
Editor's note: The square footage of the west side building has been corrected.
Norton's Flowers and Gifts reopened its west side shop in a new location last week.
The new store, at 2558 W. Stadium, is just across the street from Westgate Shopping Center, where the former Norton's shop resided for 21 years. The new location is smaller and more visible to passing traffic. It's a strategic move that already has shown an increase in shoppers coming into the store, according to president, Tim Galea.
Galea said a great deal of work was needs to transform the space, which used to be home to Focus Photo. Construction included new flooring, counter tops, restrooms, lighting, fixtures, and paint. The intention to open in time for Thanksgiving was missed by a couple of weeks, but the holiday season continues and Norton's is offering a special sale on Christmas and seasonal items in order to celebrate its grand opening.
To welcome customers to the new shop, Norton's also is offering a $5 gift card to every shopper who stops in between now and Christmas.
Once inside shoppers will find an updated floral shop with a new hex floral cooler, soothing colors, and a smaller selection of unique gifts. Pashmina scarves have been Norton's most popular gift items and the small selection of colorful wraps are displayed right next to the cash register, alongside a new hot item for the season, fingerless rabbit fur gloves. Plush animals, greeting cards, and Christmas items round out the selection in the gift area of the shop.
"The way I have always looked at Christmas is, I want to have items that people cannot get anywhere else. If they care about their tree or want to give an ornament as a keepsake gift they can come in."
One of the challenges that customers may find at the new location is the parking lot. Spaces are few, small, and many are labeled with the directive do not back in. Sharing the lot with the busy Bigby Coffee complicates things a bit further. "We had to compromise something," Galea explains that the prominent visibility for shoppers more than makes up for the smaller location and parking options.
A second challenge the new location brings is storage space. Where there used to be a back workroom to design and assemble orders, now the bulk of that is done in the open, for every eye to see.
Galea, who designed the layout and design of the shop himself, feels the openness lends way to a streamlined simplicity in the shop. But a need for additional storage and organization is something that staff still is figuring out during these first weeks in the new location.
The west side Ann Arbor location, at 1,000 square feet, serves as a smaller quieter showroom, focusing on floral arrangements and a bestselling selection of seasonal gifts. Ann Arbor shoppers are used to working their way through quaint shops and discovering new items at every turn, according to Galea.
The original Norton's Flowers and Gifts, at 2900 Washtenaw Ave, operates on 15,000 square feet of property in Ypsilanti. The larger location will support the Ann Arbor shop, and be able to fulfill larger floral orders and production.
Angela Smith is a freelance reporter.