Posted on
Fri, Feb 19, 2010 : 1:42 p.m.
Now hiring: Ann Arbor-area's Adaptive Materials needs to fill 9 engineering jobs
By Paula Gardner
Wanted: Nine engineers to fill new positions at a growing tech company near Ann Arbor.
Given Metro Detroit's unemployment rate, that may not seem like a tall order. But Adaptive Materials Inc. isn't taking chances: The company is using what it calls a "resume blitz" this weekend to generate prospective hires.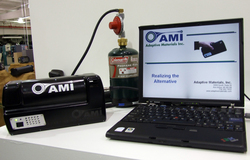 File photo
AMI is trying to get as many resumes from qualified candidates as possible submitted via its website by 5 p.m. Sunday.
The company, based on South State in PIttsfield Township, describes itself as "the leader in the development and manufacture of solid oxide fuel cells."
Recent contract awards - including a $3 million deal with the U.S. Air Force - is prompting the hiring blitz, said Anna Hornyak, HR director for AMI.
"We need to fill the positions as quickly as we can," Hornyak said.
The jobs are all engineering positions, she said, and the pay range is $60,000 to $90,000 per year.
The company typically posts openings on Careerbuilder.com and recruits through Ann Arbor SPARK and its own website.
That's worked as AMI filled four positions out of its existing 50-employee base over the past six months.
But now that AMI wants nine new workstations filled by March 29, the urgency is driving the blitz strategy, Hornyak said.
Still, Hornyak added, the company is looking for the "ideal candidates."
Those people will have strong technology competencies and strong collaborative skills, she said.
The search is for "those that are willing to affect and lead change within a high-growth, high-tech organization," Hornyak said.
AMI officials expect to be able to fill the jobs with the existing talent base in Southeast Michigan.
"The talent is there," Hornyak said. "We have people out there with manufacturing experience - taking products from concepts to the manufacturing process to the commercial market."