Posted on
Wed, Aug 28, 2013 : 5:57 a.m.
Now open: Don Juan Mexican Bar & Grill on Ann Arbor's West Stadium
By Lizzy Alfs
A new Mexican restaurant is now serving up margaritas, nachos and chilaquiles on the west side of Ann Arbor.
Don Juan Mexican Bar & Grill opened its doors on Monday, Aug. 26 at 2135 W. Stadium Blvd. in the Boulevard Plaza shopping center.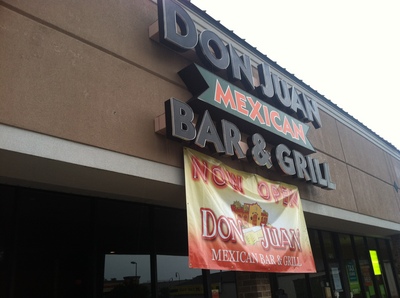 Lizzy Alfs | AnnArbor.com
"We were trying the first day out without really telling people, and we got customers in yesterday," said general manager David Corona. "We got probably about 20 tables. It was fun."
Juan Hernandez, owner of the Los Amigos Mexican restaurants on Hilton Boulevard in Ann Arbor and East Michigan Avenue in Ypsilanti Township, also owns Don Juan Mexican Bar & Grill.
The concept and menu at the Don Juan restaurant is the same as Los Amigos, Corona said.
He said the new restaurant has a large menu — options include nachos, salads, burritos and seafood dishes — and he said everything is made from scratch.
"We use fresh produce, we bake everything daily, with fresh chips and salsa every day," he said.
The restaurant is open for lunch daily, but Corona said he's unsure when the restaurant will be the busiest. He said the daily happy hour specials from 3 to 6 p.m. could be a traffic driver.
"I don't know how it's going to be on this side, but on the other side of town (near Briarwood Mall), we are busy all day long. I hope we can get a busy dinner and lunch," he said.
Ace Barnes Hardware and Arbor Farms Market anchor the Boulevard Plaza shopping center, which is located between West Liberty Street and Pauline Boulevard. Don Juan Mexican Bar & Grill is situated between Mattress & Futon Shop and H&R Block, fronting West Stadium Boulevard.
The space was listed for lease with Colliers International's Max Goldman and Lou Frango, who are still marketing two spaces for lease in the center.
Don Juan Mexican Bar & Grill's hours are: 11 a.m. to 10 p.m. Monday through Thursday; 11 a.m. to 11 p.m. on Friday; 12 to 11 p.m. on Saturday; and 12 to 10 p.m. on Sunday.
Lizzy Alfs is a business reporter for AnnArbor.com. Reach her at 734-623-2584 or email her at lizzyalfs@annarbor.com. Follow her on Twitter at http://twitter.com/lizzyalfs.