Posted on
Thu, Jan 17, 2013 : 5:08 a.m.
NSF International recognizes 2012 Employee of the Year and Team of the Year
By AnnArbor.com Staff
NSF International, an Ann Arbor-based independent public health organization that writes standards, and tests and certifies products for food, water, health sciences and consumer goods industries, recently announced its 2012 "Employee of the Year" and "Team of the Year" award winners.
photos courtesy of NSF
NSF International President and CEO Kevan P. Lawlor presented Lead Office Administrator
Kate Principe
with the employee of the year award, while the NSF Green Chemistry Team —
Anne Labut, Brad Lampe, Nancy Linde, Teresa McGrath
and
Mahya Wood
— received the team of the year award.
Both Principe and the NSF Green Chemistry Team were recognized for their expertise in innovation, leadership, teamwork, customer service and international relations.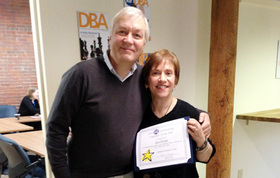 Principe heads up administration for NSF-DBA's U.S. operations, an NSF International company with more than 25 years of experience in pharmaceutical and medical device training, auditing and consulting. Additionally, she played a key role in NSF-DBA's move to its new Boston office, working with IT and managing facility logistics to ensure a smooth transition.
The NSF Green Chemistry team developed a complete educational package for newly certified companies, which improved the quality of first-time client submissions and resulted in increased customer satisfaction. NSF officials said the team serves as an outstanding example of a technical team working together towards a common goal.
Sign up for the weekly Business Review email newsletter here.