Posted on
Fri, Mar 4, 2011 : 3 p.m.
Obama's clean energy goal is 'close to impossible,' University of Michigan's Stephen Forrest says
By Nathan Bomey
President Barack Obama's goal for the U.S. to get 80 percent of its electricity from clean energy by 2035 is unrealistic, the University of Michigan's top research executive said.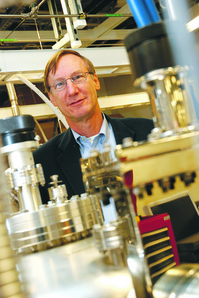 U-M Vice President for Research
Stephen Forrest
, a clean tech supporter who doubles as a solar energy scientist for the university, said Obama's objective is "close to impossible."
"It's a huge challenge, one that we are all striving to meet, but it's all based on cost, availability, shifting completely from an oil-based economy from a fossil fuel based economy," Forrest said, according to an interview U-M posted to its website.
"So no, I don't think it's likely. I think it's very good to have an aspiration, but we need to have aspirations that are within reach."
Obama laid out his renewable energy goals in his State of the Union address in January.
"Some folks want wind and solar. Others want nuclear, clean coal and natural gas. To meet this goal, we will need them all -- and I urge Democrats and Republicans to work together to make it happen," Obama said.
Forrest said energy conservation and efficiency improvements are critical ways to reduce fossil fuel energy consumption while renewable energy technology advances. He has been a big proponent of the university's clean energy technology research.
"When you think about the challenge and the opportunity here, there's no larger challenge and opportunity than to come up with methods of energy, conservation and energy generation that are sustainable," Forrest said.
Forrest said he's encouraged by improvements in solar energy technology, including the organic solar cells his lab is developing. For now, solar energy produces electricity at four to five times the cost of traditional energy sources.
"The cost structure is coming down because people are manufacturing more and more solar. It's actually coming down very rapidly," Forrest said. "But it's still very, very difficult to see how we will get through fossil fuels parity in cost within the next, let's say, five years."
Contact AnnArbor.com's Nathan Bomey at (734) 623-2587 or nathanbomey@annarbor.com. You can also follow him on Twitter or subscribe to AnnArbor.com's newsletters.