Occasionally Gift Shop in downtown Ann Arbor to close Feb. 27
Posted on Thu, Feb 10, 2011 : 5:50 a.m.
AnnArbor.com files

Linda Brinker, longtime supporter of Michigan-made products, announces the closing of her store, Occasionally Gift Shop, located at the corner of Liberty and Main Street in downtown Ann Arbor.

Brinker has been creating unique gift baskets and selling Michigan-themed products for more than 20 years, but at the end of the month the store will close.

"It's been a rough time," Brinker told me this week.

In November, Brinker told AnnArbor.com of her plans to possibly sell or close the store this summer.

But things are moving along more quickly than she anticipated. Health concerns that arose after the December holidays are one contributing factor.


Just in December, Brinker prepared more than 100 gift baskets in a matter of weeks, and the process for shrink wrapping them was "physically damaging."

She is now undergoing pulmonary rehab, and says the injury makes the store closing even more difficult.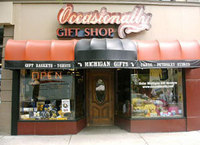 Though she looks forward to the time when" the stress will be off," Brinker, a native Michigander, also is very saddened at having to close the doors of her self-made business earlier than expected.
Brinker says she will miss her two fantastic employees, and many of the Michigan-made product vendors that she has gotten to know over time.
"I am heartbroken. We've had such wonderful customers over the years… its been wonderful to get up and have a destination to come to."
Brinker says that it has been both a personal and an economic decision. She concedes that business was better this year than in the previous two, but also said that rent goes up, and that it was time to let the business go.
There has been talk of several interested tenants for the prime Main Street location, owned by Jim and John Curtis. Most notably Cherry Republic, a Glen Arbor based retailer specializing in all things cherry, or what owner Bob Sutherland calls "magical gems of joy."
Occasionally Gift Shop will be selling off its entire inventory between now and Feb. 27 at reduced prices.
223 South Main Street
Ann Arbor, MI 48104
(734)769-5151