Posted on
Mon, Jan 14, 2013 : 5:58 a.m.
Ex-General Motors plant: Officials report no new offers for Willow Run factory
By Tom Perkins
At the final Ypsilanti Township Board of Trustees meeting of 2012, Ypsilanti Township Supervisor Brenda Stumbo provided a frank assessment on the prospects for selling the former General Motors Willow Run Plant.
"It's not moving along as fast we would like," she said.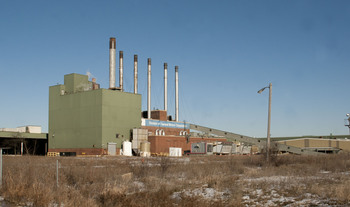 Tom Perkins | For AnnArbor.com
But township officials and the group marketing the 4.8 million square-foot site remain optimistic that a buyer will soon step forward. In all likelihood, redevelopment will come from multiple companies instead of a single manufacturer as the industry moves away from operating such large sites and plants.
Charged with marketing the property that plays such an important role in Ypsilanti Township and the region's economy is the Revitalizing Auto Communities Environmental Response (RACER) Trust. It took control of 89 abandoned GM properties on March 31, 2011 and is responsible for selling, repositioning and cleaning up all the sites.
"Companies aren't using facilitates this large," said RACER redevelopment manager Bruce Rasher, adding that the trust has always expected it would take multiple companies to move the property's sale forward.
"In order to fund the cost of demising the buildings, you need to attract a critical mass of users to justify the expense. Not to say that we cant do that, but it is a challenge."
Rasher said three to four large manufacturers could split up the property, or it could be sold to a developer who could then cut the property into multiple parcels.
Rasher declined to say what companies have expressed interest in the Willow Run plant in the past, or what companies continue to talk to RACER about it. In 2011, it was reported that the trust was entertaining an offer by A.E. Equities Group Holdings to purchase the property for $9 million, but the deal never panned out.
Although the plant's size presents some marketing challenges, Rasher highlighted its built-in advantages. It's close to the Canadian border, and that makes it an attractive prospect to Canadian companies that need or want to manufacture goods in the United States. RACER is marketing the property to Canadian firms that might have an interest, Rasher said.
The 335-acre site also sits adjacent to Willow Run Airport and has an exit devoted to it off of nearby Interstate 94, which provides a built-in logistical advantage.
About 1 million square feet of the property was fully renovated five years before GM abandoned it, and the plant comes with high-capacity gas and electric supply. Additionally, it sits in close proximity to the University of Michigan's research and development power and lies in the U.S. auto manufacturing sector's center, which means companies can draw from a skilled workforce, Rasher said.
RACER recently sold two industrial properties in Ontario, Ohio and Shreveport, La. that were between 2 million and 3 million square feet. A developer who purchased the plant in Ontario plans to demolish part of the property and lease parcels of the rest, while an upstart fuel-efficient car company purchased the plant in Shreveport.
Rasher said those sales are reason to remain positive over the prospective sale of large manufacturing properties.
"We're hoping that the momentum created by two recent sales announced by the trust in Ohio and Shreveport will provide even further exposure to the property," Rasher said.
He declined to provide the plant's listing price, but said its price is one of six criteria the trust considers in selling it: investment level, a bidding company's reputation, the number of jobs it would create, community support for the bid and the extent to which a prospective buyer's re-use of the property is consistent with cleanup operations.
GM employed more than 1,300 workers at the Willow Run plant when it announced in June 2009 that the plant would close by the end of 2010. The plant — built in 1941 by Henry Ford as a bomber manufacturing plant — employed more than 40,000 people during World War II.