Posted on
Sat, Nov 12, 2011 : 5:58 a.m.
On the market: Ex-Flim Flam restaurant space ready for new operator
By Paula Gardner
Interest is high among restaurant operators seeking to take over the space in northeast Ann Arbor that for nearly 30 years had been the Flim Flam Family Restaurant.
Bela Sipos of Reinhart Commercial has shown the space four times since owner Chris Klademenos closed the Plymouth Road Mall restaurant suddenly after serving customers for the last time on Sunday.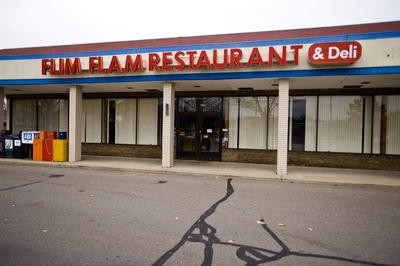 Joseph Tobianski | AnnArbor.com
Two are locals and two others are from Metro Detroit, Sipos said Friday, a day after the space officially was put on the leasing market.
"The owner is looking for someone with a solid idea and also the wherewithal to spend the necessary funds to remodel the place so that it is fresh again," Sipos said.
Klademenos said his business had steadily dropped off after Pfizer announced it was leaving Ann Arbor in 2007 and the recession further challenged retailers.
He'd cut staff to about eight and maintained a steady stream of regular customers, he said, but their dining frequency dropped, making continued operations tough. Klademenos also said he was going to need to remodel soon, and the investment didn't make sense for him.
However, the Plymouth Road restaurant market is active, Sipos said, from the Courtyards to the west all the way to Plymouth Green Crossings at Green Road.
He went to lunch this week in one restaurant on the corridor and found limited parking — and got the last table inside, he said.
"Overflow from the Flim Flam is jamming everywhere else," Sipos said.
Despite the restaurant interest, there have been limited options in the corridor until recent years, Sipos said. The core area near Nixon Road — where Traver Village also sits — still remains sought-after.
The option to move into the former Flim Flam space means that start-up costs could be more reasonable than converting "shell" retail space, Sipos said.
The 3,200-square-foot restaurant that seats 125 is available for $16 per square foot per year.
Sipos said the landlord, Hutton Management Services, could end up in a position where it is taking applications from multiple prospective tenants. The edge will go to a lasting concept, Sipos said.
"Chris was there for 30 years," he said, "and we'd like the next person to be there for 30 years,too. "
Paula Gardner is news editor of AnnArbor.com. She can be reached by email or Twitter.