Posted on
Sat, Jul 23, 2011 : 5:55 a.m.
One Twenty Three skateboard shop opens in downtown Ypsilanti
By Tom Perkins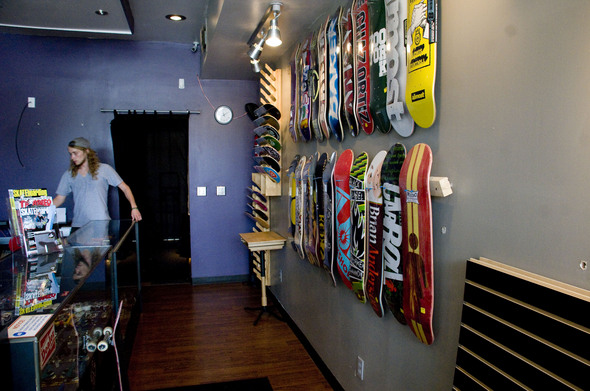 Tom Perkins | For AnnArbor.com
SOAR Inc. mentoring program director Kevin Frye noticed last year that a lot of the kids he knew in his neighborhood and around Ypsilanti were taking up skateboarding.
As he pondered what to do with a storefront he leased at 123 N. Washington St. in downtown, opening Ypsilanti's first skateboard shop made perfect sense.
"I've seen a lot of kids out skating and I was just looking at them thinking, 'What does Ypsi need that's different?'" Frye said. "I always see all these kids and all they do is skate, skate, skate, so that's what sparked the idea in my mind — why don't we have a skateboard shop downtown?"
The shop, One Twenty Three, opened in early June and offers boards, shoes and other skate accessories.
Frye, 34, who used to skateboard as a youth, said he consulted with area skateboarders as he developed ideas and considered what brands to stock.
"I started talking to them, told them my ideas, asked what they would like to see, and we went from there and built the store," he said.
Frye employs three young people and tries to promote the store via word of mouth at area skate spots or through his Facebook page and blog. He said he keeps a good selection of popular gear in the store, but will order anything kids are looking for.
After growing up in Ypsilanti, Frye moved to Atlanta and then returned to Michigan in 2006, at which time he bought the storefront. He ran a custom screenprint and sneaker design shop there for about a year, and then rented the space to another business.
Frye also took over the SOAR Inc. mentoring program, which was founded by his father, Tom Frye, out of the Parkridge Community Center. The mentoring program offers tutoring, life skills assistance and a general focus on self-development.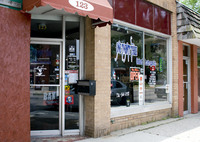 Tom Perkins | For AnnArbor.com
Frye said that mission is in line with his personal mission to provide kids with something to do in Ypsilanti, and his next step is a push for a skatepark. He said he has an upcoming meeting with the Ypsilanti Parks and Recreation Commission to discuss the idea and suggested Water Street as a potential spot for an outdoor park.
He said he's also considering several indoor locations downtown where a park could be built, and he's looking for investors.
"This city has so much potential, a lot of cool, young kids, and it's an urban area," Frye said. "I like to invest in where I'm from, and I'd like to see some better things happening here."
Tom Perkins is a freelance reporter for AnnArbor.com. Reach the news desk at 734-623-2530 or news@annarbor.com.