Posted on
Mon, Jul 16, 2012 : 5:58 a.m.
One year after bankruptcy: Ex-Borders employees are taking different paths to new jobs but sticking together
By Ben Freed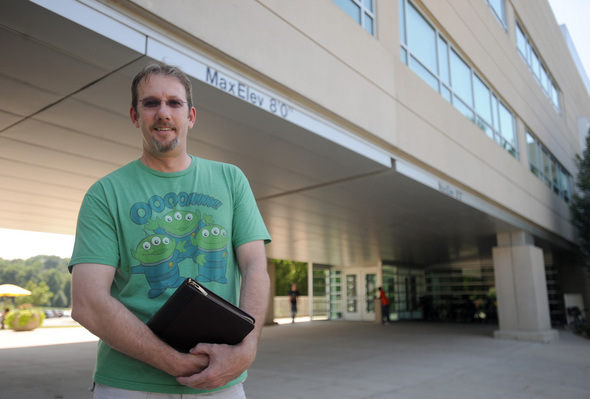 Angela Cesere | AnnArbor.com
Throughout this week, AnnArbor.com will profile former Borders employees who have (or have not) moved on to new opportunities. Please reach out to Ben Freed at benfreed@annarbor.com if you would like to share your story.
This story has been updated to reflect the fact that C.J. Snow was a music buyer, rather than a book buyer at Borders. It has also been updated to clarify the fact that his wife remained employed at all times.
What do a Washtenaw Community College student, a social media coordinator at Ideation, and a corporate relations manager for Habitat for Humanity have in common? One year ago they were all working at Borders.
When the Ann Arbor-founded-and-based bookstore chain announced it was liquidating on July 18, 2011, the news sent shockwaves through the community and the literary world.
No one knew what would happen to the prime pieces of real estate that Borders occupied, or to the 400 people in the area who were soon to be without a job. Both the buildings and the people who used to work inside them have experienced mixed results.
One year later, there has been activity at all of the local retail stores. While there is no new tenant for the flagship downtown location on East Liberty Street, the property is being re-developed by a local real estate investor. The only location that is still on the market is the former headquarters on Phoenix Drive - which was listed recently for $6.9 million.
Meanwhile, most, but not all, of those who worked at Borders have found a new path. Many had to change career trajectories, some more dramatically than others.
"What can we do to help the employees get to work again?"
In early September, the Borders Next Chapter Joint Adjustment Committee was founded. The committee was comprised of representatives from the state government (who funded the committee), Ann Arbor SPARK, Michigan Works!, and Borders employees. Cynthia Pepper, a human resources and orginzational development consultant, chaired the committee.
"The goal of the committee was to ask, using the resources at our disposal from the organizations on the committee and the employees themselves, 'What can we do to help the employees get to work again?'" Pepper said.
The committee first surveyed the former employees to get a sense of what sort of help they needed or were looking for.
"We wanted to see what skills or support people needed," Pepper said.
"Some needed help with resumes or interviews, other people wanted to figure out whether they should retire, learn how to market themselves, or even learn to start their own business."
The committee's charge was to help the 400 corporate workers whose jobs were liquidated, but assistance was also offered to store employees from across the state who reached out for help. All of those involved were entering a job market that was improving, but still not strong.
There had been a steady decline in unemployment in the Ann Arbor area since levels peaked in late 2009. However, the unemployment rate was still at 6.5 percent when most of the laid off staff started looking for work. Since then, the rate has continued to fall, reaching 5.5 percent in April and May, the lowest seasonally adjusted rate since June 2008, according to the Bureau of Labor Statistics.
There were miniature job fairs held for former Borders employees, job recruiters were invited to speak to job seekers, and LinkedIn and Facebook groups were established for members of the Borders "family" to share job opportunities with each other.
The committee ceased activity at the end of February. In its final report, 46% of the laid off employees self-reported that they had found new jobs. Pepper said that number could be higher because they were only able to gather anecdotal employment numbers. There were also those who chose not to immediately re-enter the workforce.
"A completely different route"
C.J. Snow was a digital operations lead at Borders. He met his wife, Rosalynn, at Borders. He moved to Michigan in 2005 to work at Borders headquarters after working for them in the field for a number of years. The book industry was what he knew, specifically, the music side.
"Both my wife and I worked at Borders, so we would have gone from being a two-income family to a zero income family," he said.
"I was pigeon-holed as a buyer, so to stay in Michigan and keep the same profession would have been problematic. I decided to go back to school."
Snow's wife was in the finance department and was never unemployed. She immediately found work at a local company. He enrolled part time at Washtenaw Community College.
"I had been in my field for 25 years, so to be a student was basically brand new," Snow said.
"But I decided that I might as well do the one other thing I had ever really wanted to do, which is teach. So I had to go back."
Snow enrolled part time for the fall semester just two weeks after Borders shuttered. He is currently taking classes full-time at Washtenaw Community College and plans to transfer to Eastern Michigan University to pursue a degree in secondary education.
"We consider ourselves vastly lucky..." Snow said. "It could have been tragic, and it wasn't."
Others weren't as lucky as Snow. While many have found new employment or career paths, others are still struggling to find their "next chapter."
Peter Drogaris had worked at Borders for over 20 years. Now, he spends most of his time every day looking for job opportunities, posting resumes, and emailing prospective employers. He worked under contract as a writer for a local technology company, but that job ended in early June.
"I've stayed optimistic all along, but there are times when you get rejections and you get discouraged," he said. "The whole thing has been really eye opening because I haven't been in this situation since 1990."
"We're all still a big family"
In talking to former Borders employees, you can't help but notice their continued devotion to each other. Members of the Borders family continue to post on the LinkedIn and Facebook groups with job openings either at their current workplace or that they've heard about through the grapevine.
"I got my job through a Borders colleague," Dane Jackson, a former assistant buyer who now is the social media coordinator for Ideation in Ann Arbor, said.
"She knew there was an opening and thought I'd be a good fit for the company so she reached out to me."
Even those who haven't found work yet say the support system has been there for them.
"I can't tell you how many times I've seen people post things or even send me personal emails when they think there's a job description that fits me. I got one just the other day," Drogaris said.
"It's also common for us to get together. I've seen four former colleagues in the last week. It's a network thing, and it's also a support thing. Mostly it's just a socialization thing."
The Borders Foundation, now the Book Industry Charitable Foundation, was founded by Borders employees to help Borders employees in times of personal financial need. When Borders closed, the foundation decided to continue with their endowment and turned their focus to employees in both chain and independent bookstores across the nation. They also still use the $4 million endowment help former Borders employees who haven't found their next step yet.
"We provide financial assistance and grants for a variety of things," Alison Foreman, programs manager at the foundation, said.
"Just in the last month we've helped someone going through cancer treatment, helped with someone's utility bills, and helped someone pay funeral bills for a family member."
Like any good family, the Borders family also has reunions. The next one is planned for July 28.
"We were planning on having at the Wurst Bar in Ypsilanti, but we've gotten such overwhelming response that we might have to move it," Snow said.
"We all just like to get together and party."
This video was produced by the Borders Next Chapter JAC
Ben Freed covers business for AnnArbor.com. Reach him at 734-623-2528 or email him at benfreed@annarbor.com. Follow him on twitter @BFreedinA2