Posted on
Sun, Nov 29, 2009 : 5:58 a.m.
Online retail offers hope for Ann Arbor businesses as Cyber Monday approaches
By Nathan Bomey
Witness the power of online retail for businesses in the Ann Arbor region.
A high-profile movie star who's currently making a film in Ann Arbor recently asked his assistant to find a special candle from Paris to display in his trailer.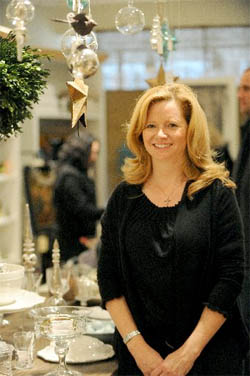 Angela Cesere | AnnArbor.com
More online retail stories

A quick Google search showed that Ann Arbor luxury gift shop
La Belle Maison
sells the candle. The star's assistant subsequently visited the La Belle Maison, bought the candle and keeps coming back for more products.
"We are seeing people come in because they know the product, they Googled the product and they hit store locator and we popped up," said
Maureen Hawley
, owner of La Belle Maison.
Online sales may offer an oasis of hope for the retail industry as cash-strapped consumers embrace frugality and convenience during the holiday shopping season. Deals-driven "Cyber Monday," which annually comes three days after Black Friday, marks a crucial moment for retailers in a treacherous economic environment.
Forrester Research projects that online retail sales will increase by 8 percent to $44.7 billion this holiday season. Some 72 percent of retailers expect online sales to grow, Forrester found in a study conducted with Shop.org.
Holiday online retail facts

63 percent of consumers plan to shop online.
47 percent of Web shoppers plan to spend $100 to $299 online.
The top items this year will be toys and video games; clothes, shoes and accessories; movies; books; gift cards; music; and home electronics.

Source: Nielsen
In a sharp contrast, however, a Nielsen study found that 42 percent of consumers plan to spend less online than they did during the 2008 holiday season, and just 4 percent plan to spend more.
The National Retail Federation expects total holiday sales, a figure that includes in-store revenue, to dip 1 percent to $437.6 billion.
For retailers of all sizes, the role of the Web is constantly shifting.
"I certainly expect we'll continue to see the trend of more of the overall holiday shopping dollars being spent online as opposed to in brick-and-mortars," said Scott Watkins, a senior consultant with East Lansing-based Anderson Economic Group. "The continued spread of Internet access and high-speed Internet access both on people's desktops literally and now on cell phones and other mobile devices - it's continuing to make that a widespread distribution channel for retailers to draw business."
Whether online sales are up or down, here are a few trends online retail experts expect to see this year:
-Value reigns. Price remains the driving factor for most consumers as the national unemployment rate hovers at 10.2 percent and Michigan's unemployment rate is 15.1 percent. For many major retailers, this means that offering free shipping is a necessity, said Larry Freed, CEO of Ann Arbor-based ForeSee Results, an online customer satisfaction firm.
"Discounts are going to be big, and free shipping's a part of it, no doubt," Freed said. "It's almost a cost of entry at this point."
-Lack of in-store inventory may drive customers to order products online. "As retailers have cut back in their on-site inventories just as a matter of precaution due to the times, that means it'll be a little more difficult for shoppers to find what they're looking for this year as opposed to in prior years, which is going to lead more retailers to use the Internet to service customers," Watkins said.
-Large retailers will fare better than smaller companies in online competition.
Melissa Bryant, owner of Ann Arbor natural products store Organic Bliss, launched online sales for her store earlier this month. She said she expects online sales to supplement her in-store business, perhaps by giving local consumers who don't want to park downtown the chance to buy from her store.
But she acknowledged that big box stores have an advantage if they sell the same products she does online.
"I think I can compete with them, but not if you're strictly looking online comparing apples to apples," Bryant said. "If people are really price sensitive, if they're doing a price comparison, that might hurt in that instance."
Small local retail shops, already pounded by the economy, may start trying to tie their online hopes to each other.
Derek Mehraban, CEO of Ann Arbor-based Ingenex Digital Marketing, said he's working with other local Web developers to create a Web site that will offer local retailers the chance to sell products online through a shared portal. The startup company, PlumTrail.com, expects to launch its site in early 2010.
Mehreban said the site would give customers a chance to win products they've bought and provide customers with regular RSS feeds detailing new deals and products of interest to them.
"When people buy, if they win on PlumTrail, for example, they can instantly hit their network, their Twitter stream or their Facebook" and spread the word," he said. "It makes shopping more fun and more rewarding. These days retailers need every advantage to make the experience more enjoyable for their customers. People who invest in that will reap dividends."
John Coleman, president of Ypsilanti-based vintage hardware seller LookInTheAttic.com, said his 8-person, 12-year-old company is experiencing double-digit revenue growth this year due to its focus on niche products and Web traffic strategy. Low prices are important, he said, but that's nothing new.

"Price is always a concern. That's the main driver of people," Coleman said. "It's always been that way."

For all online retailers, customer satisfaction still often trumps price, Freed said.
"The user experience has always been key," Freed said. As mobile communication devices allow consumers to buy products from a 3-inch screen, Web retailers have to be agile and responsive to customer demands.
"It really comes down to people being able to navigate and find what they're looking for quickly."
Hawley, owner of La Belle Maison, said growth in online commerce means that retailers have to focus intensely on customer satisfaction. She's offering gift packaging to online customers, for example.
"We're really trying to focus on customer service," she said. "We try to give them above and beyond what they're asking for in service, and we have to. They can go anywhere."
Contact AnnArbor.com's Nathan Bomey at (734) 623-2587 or nathanbomey@annarbor.com. You can also follow him on Twitter.