Posted on
Sat, Oct 20, 2012 : 5:57 a.m.
Making way for high-rise, Overture Audio plans move from South Main Street after 23 years
By Angela Smith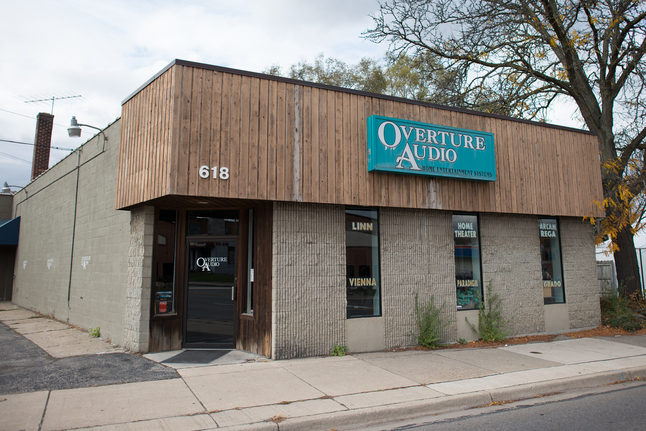 Courtney Sacco I AnnArbor.com
After 23 years on Ann Arbor's Main Street,
Overture Audio
will be moving to West Stadium Boulevard to make way for the city's newest high-rise:
618 South Main
.
The move will take the business to 2460 W. Stadium. The current site of the business, at 618 S. Main St., will be vacated sometime in the next few months, owner Keith Moorman said. "They're taking a wrecking ball to us; it's kind of a forced issue."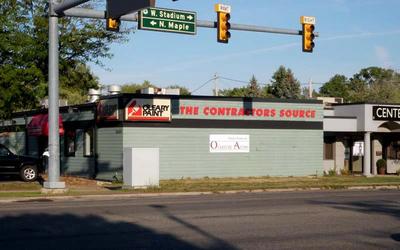 Overture Audio's current location is
being redeveloped
into a high-rise luxury apartment complex. The proposal was approved by both the city and the county over the summer.
Moorman says he's known of the plan for about two years now, but that the reality of the move took hold only in the last few months because the deal was "in limbo" as developments transpired. He began looking for a new location about a year ago. The new location was found in May, and closing took place in mid-August.
"It's located on West Stadium Boulevard, just south of Jackson Avenue — a very happening shopping and restaurant corridor! From a retail perspective it has even better visibility than our current store, with easier highway access and better parking," staff announced on its Facebook page.
TJ Jankowski, works with Moorman at Overture Audio and, and they are partners in the audio business' online presence, TheDigitalMusicExperts.com. Jankowski says the move is coming at the right time, and that the new location will be good for the specialty business.
"When we moved in, Main was more of a retail street … but now it's more of an entertainment district I see galleries, upscale clothing, jewelry, less large items, but no hardware stores, fewer retail shops… Stadium will offer us greater traffic exposure. The city is growing; it's more of a service and retail area, perfect intersection of what we do. "
But the company does feel forced into the move.
photo courtesy Overture Audio
"We're very fond of our current location," Moorman explained, "this space opened as a stereo store —
Hi Fi Buys
— in 1965, and it's been an audio store ever since."
Moorman says his work in audio sales started in Ann Arbor in the 1980s. He worked at Absolute Sound on State Street until it closed in 1989.
When the business closed and Moorman found himself without a job, he established Overture Audio. The space on Main was available, and he could continue doing what he enjoyed. "It was serendipitous."
After 23 years in specialty market sales, Moorman admits that it hasn't always been easy.
"Specialty audio can be pretty brutal. Especially in the past five years, in Michigan, we have lost a large majority of the shops." Moorman says the secret to Overture Audio's success has been its loyal clientele. He cites the Ann Arbor location, and a staff of four that collectively has well over 100 years of audio sales experience and expertise.
Overture Audio specializes in home theater and stereo sales. "No cars, no TV's, we're more about the music end of things." Moorman explains that "two-channel systems" have been the main product of focus, but that large home theater systems have also become a specialty of theirs. "(Home theater system sales) are down a bit, but two-channel is coming up again, turntables are also growing (in sales)."
He sees digital music as the "wave of the future," and is enthusiastic to explain how to make a computer library of music sound better, and less compressed/ processed.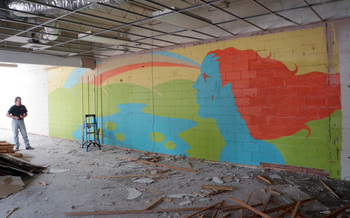 photo courtesy Overture Audio
Moorman says that there is a young audience at Overture Audio, but that most of his clients are more like his 54-year-old self. The staff at Overture Audio likes to "sell by demonstration." With sound rooms set up for demonstration, "we work hard to let customers hear the difference."
The new Overture Audio will be in the old O'Leary Paint building, one that Moorman bought instead of leasing. He'll take about three months to transform the 4,000-square-foot space into Overture Audio, with three sound rooms, a spacious lobby and larger repair/setup area. Though the square footage is the same, the new location will feel bigger, because of a better use of warehouse space.
Demolition started this month, when contractors uncovered a wall mural that Moorman suspects was created during the 70s.
"It feels like an archaeological dig. We contacted O'Leary Paint about it but they didn't claim it." Though it's a point of interest, it doesn't really fit in with the vision Moorman has for Overture Audio. "It'll get covered back up for someone else to find."
There is no plan to hire additional staff for the new location, though Overture Audio may be open at both locations for a short period of time.
Angela Smith is a freelance reporter for AnnArbor.com.